East of England paramedics praised by family
East of England paramedics praised by family
Wednesday, 20 January, 2010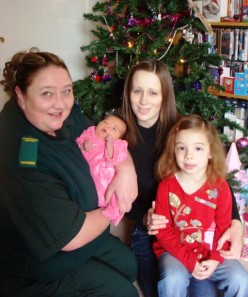 Picture shows Karen holding Florence, Lindsay and her other daughter, Matilda.


A Stevenage family has shown their appreciation following the birth of their daughter who was born during the snow blizzards during December.

Lindsay and Marcus Wallbank were taken by surprise when baby Florence entered the world much quicker than they expected whilst they were getting ready to go to hospital.

Lindsay said: "I was just about to leave the house for the hospital when I felt the baby was on its way. I got to the bottom of the stairs and the rest is history. Stevenage based paramedic Karen Nixon was first at the scene and after three pushes, baby Florence was born, she weighed 6Ib 11oz. Karen's colleagues Steve and Mel Smith, based at Letchworth, were quickly at the scene and following treatment, mother and baby were taken through the snowfall to the Lister hospital.

Lindsay commended the crews for reaching her during the snow, she said: "They were all fantastic and they all done extremely well to get to us in such awful weather conditions, I cannot thank them enough."