Building on experience
Building on experience
Monday, 01 September, 2008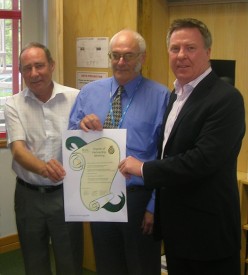 South Western Ambulance Service (SWAST) has received praise from the Department of Health Project Team for its new ways of working.

The Trust is one of the pilot sites for the 'early adopter' project, which is a complete overhaul of the complaints system across the disciplines of health and social care.

This new way of working will ensure that all compliments, concerns, comments and complaints are handled using the same processes and procedures across all areas of the health and social care spectrum.
Patients, families and carers are at the heart of the new process, which asks them to provide the Trust with feedback relating to their treatment. This will be used to shape future provision.

SWAST recently held a day long workshop at Trust Headquarters in Exeter incorporating a variety of personnel from patient groups and the Independent Complaints Advocacy Services (ICAS), which is a national Department of Health led service. During the event a Charter of Partnership Working was signed between the Trust and ICAS.

The Trust's head of PR and strategic communications, Lynne Paramor, said, "We are extremely pleased to have been chosen as one of the few sites to pilot this exciting project, which puts patient feedback and experiences at the top of the agenda.

"This is something that South Western Ambulance Service has practiced for a considerable period of time, which is demonstrated through the information leaflets that we have been distributing to patients. As a Trust we are fortunate to receive very few complaints, which reflects the high standards of care offered by our skilled clinicians. However, it is important that when people wish to make a complaint, or an appreciation, that they are equipped with the knowledge to do so."