Bob the Bear to comfort airlifted children
Bob the Bear to comfort airlifted children
Monday, 18 August, 2008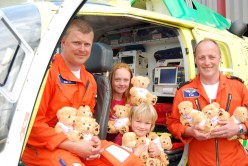 Daniel Parkin, who was airlifted, on a recent visit to the base with his sister Kate, meeting Bob the Bear and paramedics (left) Neil Plant and (right) Tim Goddard


The latest recruit to the Thames Valley and Chiltern Air Ambulance Trust has been unveiled.

Bob the Bear has the specific role of bringing lasting comfort to sick or injured children who have been airlifted by the charity's emergency helicopter.

Named after the initials of the charity's rescue area, Berkshire, Oxfordshire and Buckinghamshire and the helicopter's call sign, G-HBOB, the new air crew recruit stands a full 9 inches tall and supports a white t-shirt with the legend, "I've been airlifted by Bob the Bear".

TVAC fund-raiser Pat Conafray said "Bob will only be given to children who have been airlifted and will be unavailable for general sale so that owners will always know that they are part of an exclusive club.

"Coming to the rescue of children always has an extra emotional impact and we hope that when the air crew give Bob the Bear to children he will bring comfort and help them to recover in some small way.

"Bob joins the staff at an appropriate time as we have just taken delivery of our new EC135 Eurocopter and one of its many improved design features is the ability to carry an additional caring adult and this will make a significant difference in the case of an injured or ill child.

"Anything that might help a child in these circumstances is important to us, so we take Bob the Bear's new role very seriously indeed."