Kent Air Ambulance Memorial Service
Kent Air Ambulance Memorial Service
Monday, 14 July, 2008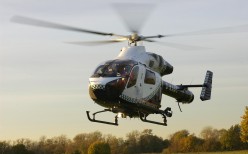 A Thanksgiving Service is to be held in commemoration of the crew of the Kent Air Ambulance, who tragically lost their lives when the helicopter crashed 10 years ago, on July 26 1998.

Mark Darby, Tony Richardson and Graham Budden will be remembered in the service, which is taking place at Rochester Cathedral and will be attended by present and past crew, trustees and staff of the Air Ambulance and South East Coast Ambulance Service, and representatives from other emergency services.

The service, which is in association with the families of the crew, will be taken by the Dean of Rochester and include a reading by Mr. Anthony Monteuuis, the charity's chairman as well as representatives from the families. The address will be given by Cannon Reverend Ed Condry, a trustee of Kent Air Ambulance.

The families of the crew who sadly lost their lives in the Air Ambulance crash, do not wish to give interviews and have requested no camera's or film crews at the service or Cathedral. We would ask you to respect their wishes.

The following statement is issued on their behalf: "Our loss was a very public one and we were touched by the tremendous outpouring of grief from the public. We will never forget our loved ones and this Thanksgiving Service is an opportunity to celebrate the lives of three brave men, 10 years on."