Praise for life-savers
Praise for life-savers
Tuesday, 01 April, 2008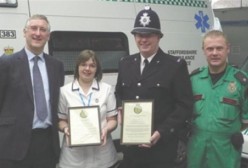 From left to right; Peter Murtagh (Staffordshire Locality Director), Nurse Claire Farley, PC Nigel Clewley and Paramedic Shaun Looker. Pic courtesy of West Midlands Ambulance Service

An off-duty nurse and a passing police officer from Staffordshire have been praised for helping save the life of a 5 year old girl who had been involved in a collision with a 4 x 4 vehicle.

District Nurse Claire Farley and PC Nigel Clewley both received Chief Officer Commendations from West Midlands Ambulance Service.

The incident, which happened in Stafford, involved a mother and her five year old girl were in collision with a 4 x 4 vehicle. The girl suffered a severe head injury and, at the time, was not expected to survive. Her mother had less serious injuries.

Nurse Farley was the first to tend to the injured child. She stayed at the scene with the girl and continued to help ambulance crews. PC Nigel Clewley was passing the scene when he noticed a large gathering of people.

He kept the bystanders calm and at bay, then took to the wheel of the ambulance to ensure the girl was able to receive the full attention of all ambulance staff while en route to University Hospital of North Staffordshire in Stoke-On-Trent.

Awarding the Chief Officer's Commendation to PC Clewley and Nurse Farley, Peter Murtagh, Staffordshire Locality Director said, "This was a challenging incident and we are grateful for the help you gave us. It was an incredible effort. What you did made a great difference. Both mother and daughter are doing really well."