Father and son join forces
Father and son join forces
Tuesday, 01 April, 2008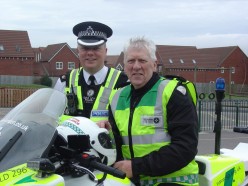 A St John Ambulance trainer from London has joined forces with his son to play a vital role in an initiative to improve relationships between the police and young people.

Keith Godwin, 63, was selected to help promote a scheme recently initiated by West Midlands Police called Copper Cards.
Copper Cards aim to encourage interaction between young children and uniformed police officers or Police Community Support Officers. The front of the cards depict policing through the ages and the reverse features crime prevention and safety information targeted at children between seven and 11.

It is hoped youngsters will seek to collect all 24 in the set and can do so by approaching officers on patrol or visiting a special police surgery.
Keith, who is both a trainer and volunteer for St John Ambulance London (Prince of Wales's) District, became involved because his son, Superintendent Tim Godwin, is the Operations manager of the Sutton Coldfield Operational Command Unit of West Midlands Police.

He drove a St John Ambulance London District Response Motorcycle to the launch of the initiative and was pictured with his son.

"I was delighted to get involved with the launch of this scheme," said Keith.
"My son had told me all about it and I was particularly keen because at one stage in my own police career I actually rode the very motorcycles which are featured on some of the picture cards."
Keith is one of a team of motorcyclists for St John Ambulance London (Prince of Wales's) District.

The city-based Motorcycle First Response Unit has four vehicles and each motorcycle is used at events throughout London - including the likes of Notting Hill Carnival, state occasions and premier division football matches - to carry lifesaving equipment such as defibrillators and oxygen.
Riders are all volunteers and are qualified Emergency Ambulance Attendants. They undergo in-house advanced motorcycle training before being allowed to use the bikes for real-life scenarios.
Keith was delighted to spend time telling the young people about the motorbikes as part of the initiative's launch.
Speaking about the involvement with his father in the project, Tim said: "Having had a career in the police himself, Dad was obviously really enthusiastic about the scheme when we discussed it."