Tony bows out
Tony bows out
Monday, 10 March, 2008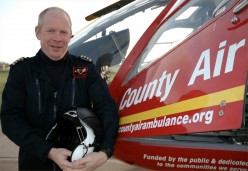 One of the longest serving air ambulance pilots in the country and the most experienced Captain with County Air Ambulance has left the service.

Tony Stevens (49) from Newport in Shropshire is taking up a senior training post with the helicopter operating company who lease the aircraft to County Air Ambulance.

After joining the fledging helicopter service almost at the very start of operations in 1991, Tony has been at the controls ever since, clocking up almost thousands of flying hours to make sure patients are safely airlifted to hospital.

The former North Sea helicopter pilot says he will be sad to be leaving behind friends and colleagues at the RAF Cosford base in Shropshire.

"I have had a wonderful time with County, sharing all the emotions of being at the heart of a very important and vital service. I shall miss everyone connected with County, but I feel the time is now right to relinquish the controls and move onto pastures new," he said.

Ian Clayton, Operations Manager for County Air Ambulance, paid tribute to Tony's long association with the air ambulance service, saying, "It is hard to imagine not having Tony around the base. His contribution to the success of County Air Ambulance cannot be understated and his total professionalism in the air has undoubtedly led to many lives being saved".