EMAS staff congratulated
EMAS staff congratulated
Tuesday, 29 January, 2008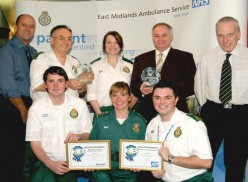 East Midlands Ambulance Service staff are celebrating after their service was named Ambulance Trust of the Year (2007) at a Health Business Awards ceremony in London.

The awards highlight success stories in the Health sector - to recognise and celebrate the achievements of organisations that work inside and alongside the NHS. EMAS was nominated for the way it has improved services to patients by developing:

* A nurse triage and advice service which provides better referral options for patients with non life-threatening conditions
* A computerised system which predicts 999 activity, allocates crews according to peaks in demand and allows calls to be responded to effectively
* Better career development opportunities for staff through the introduction of the new role of Emergency Care Practitioners, who are trained to degree level
* A website which contains downloadable podcasts offering first aid advice
As well as being named Ambulance Trust of the Year, EMAS won a separate award for the introduction of a security management system. This allows staff to access specific areas within EMAS premises by use of encoded key-ring tags.

A centralised monitoring system then logs activity at all locations the service operates.

Welcoming this news, Paul Phillips, Chief Executive said, "In 2007, our Trust made excellent progress across a wide range of areas. These two awards are a tribute to the hard work of all our staff who continually strive to provide the best possible service to the public of the East Midlands."