Your current location:
ParAid Medical reports substantial sales growth in first quarter
ParAid Medical reports substantial sales growth in first quarter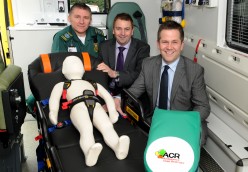 Mark Hill community paramedic, Steve Farnsworth General Fleet Manager East Midlands Ambulance Service, Darryl Smith Operations Director ParAid Medical


ParAid Medical, a leading manufacturer of bespoke medical transportation equipment, has reported a 300% increase in year on year sales in the first quarter of 2011.

The substantial rise is owing to an increase in orders of its bespoke range of transportation equipment for seriously-ill babies and children, for medical transfers by road and air, and sales of the company's recently launched Ambulance Child Restraint (ACR) and Neo-restraint.

Leicester Royal Infirmary, Newport's Royal Gwent, Swansea's Singleton and Cardiff University Hospitals are among those that have recently placed orders for ParAid Medical's paediatric trolley and Transporter+ Incubator trolley. Each bespoke trolley is configured to meet the specific needs of the clinical team, and designed to accommodate a wide range of medical apparatus. Aero medical teams from Scotland, Isle of Man, Jersey and Guernsey are now using ParAid Medical's Incubator Aero-Sled.

Darryl Smith, Operations Director at ParAid Medical, said: "We have seen a steady increase in the number of dedicated neo-natal and paediatric transportation services across the country in recent years. These services are providing an important front-line service in the rapid transfer and early intervention of critically-ill children to the country's specialist paediatric and neonatal intensive care units.

"Our long-established expertise in this area of medical care has allowed us to respond quickly to this increased demand for patient transportation equipment. Our bespoke design service means that we can offer a flexible solution which is responsive to the needs of both the medical staff and patients."

The company has seen a steady period of growth despite the difficult economic climate. In January 2010, ParAid Medical, with its parent company Evac+Chair International, acquired the assets and staff of Telford-based textiles company, APB Ltd. The company is now trading as ParAid Textile Services (PTS) and specialises in the manufacture and supply of straps, harnesses and load restraints for the medical industry and also manufactures ParAid Medical's innovative Ambulance Child Restraint (ACR).

The new ACR was developed in partnership with the Children's Acute Transport Service (CATS), based at Great Ormond Street, The Scottish Ambulance Service and Lightweight Medical. It is the only dedicated restraint for patient stretchers capable of securing children from 5kg to 45kg which meets British and European safety standards. It is currently being used by the Scottish, West Midlands and East Midlands Ambulance Services, as well as by specialist paediatric transport teams at CATS, West Midlands Paediatric Retrieval Service and Embrace - Yorkshire and Humber Infant & Children's Transport Service.

All new ambulance vehicles in the East Midlands will be equipped with an innovative restraint to improve onboard safety for child patients.

The East Midlands Ambulance Service will fit its vehicles with the new Ambulance Child Restraint (ACR) by ParAid Medical. The ACR is the only paediatric restraint for use on patient stretchers capable of fitting all children weighing 5kg - 45kg which is fully crash tested to CEN 1789 compliance levels.

Steve Farnsworth, General Manager at East Midlands Ambulance Service, said: "We are equipping more than 100 of our ambulances with the restraints from ParAid Medical. The ACR is a simple design to provide additional support, restraint and comfort for smaller patients. The three colour-coded sizes make them easy for our staff team to use and they have been designed to provide the highest standards of infection control."

Darryl Smith adds: "To help our customers provide the highest-level of medical care, we continually invest in research and development, often with the input of medical experts, to improve and enhance products, as well as develop new innovations. This year will be no different, with new products already in the pipeline."