Paramedic Opportunities in Northern Ireland
Paramedic Opportunities in Northern Ireland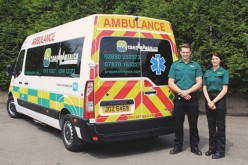 Reference: Ambulance Life
Date Posted: 20 May 2019
Position Type: Full time
Location: Northern Ireland
Details:
At Proparamedics we care that you care so if you are looking for a new challenge working for an ever expanding independent ambulance service in NI, in our 20th year of business, we may have the right opportunity for you.
Job Title: HCPC Paramedic.
Location: Remit is Northern Ireland wide.
Contracts: Flexible working. Competitive salary with private health care and pension.
Essential Criteria: A valid HCPC registration number NVQ level 2 Literacy and Numeracy or equivalent.
Desirable Criteria: BSc in Paramedic Science or equivalent Full clean driving licence (preferably with a C1/D1/D2 category and IHCD Blue Light Qual).
Job Summary: The role is to provide Paramedic Professionals who work within a multidisciplinary team either in support of the Health Trusts, Out of Hours Doctors Surgeries or at events throughout NI.
The Company
Proparamedics Ltd works across Northern Ireland supporting the Health and Social Care Trusts, and event organisers by providing highly trained and professional Paramedics.
We also have our own dedicated Training Department which not only ensures our staff work to the highest standards but can provide First Aid and other bespoke and/or accredited training courses for external clients.
Due to continued expansion and project wins we are now recruiting and would love you to join our team.
For further information contact Megan
t: 028 9023 2373 or
Statement on Fair Employment and Equal Opportunities:
We are an equal opportunities employer and we welcome applications from all suitably qualified persons"