Your current location:
Putting hearts into HART
Putting hearts into HART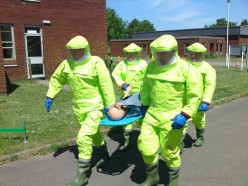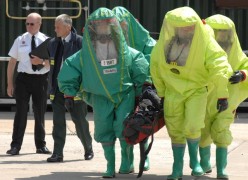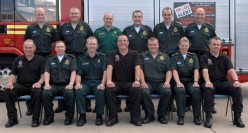 The first elements of the East of England Ambulance Service Hazardous Area Response Team training took place last month, with 10 staff undertaking breathing apparatus (BA) and limited life gas tight suits (LLGTS) training.

Although run by Hertfordshire Fire and Rescue's commercial training team predominately at the Stevenage training centre, HART team members soon discovered areas of Hertfordshire many people have
never seen, including the basement tunnels of the Lister Hospital.

The course lasted two weeks during which time the students not only learnt about the different elements of the equipment they were using but also about many operational challenges they will face when wearing the equipment, especially associated with heat fatigue.

Each day saw the students undertaking both theory training and practical exercises, and during the course were a number of exams and assessments all of which needed to be successfully passed. The fortnight ended with an exercise to demonstrate overall competence in the use, management and maintenance of all the items of equipment the students had learned about.

Trust chief executive Hayden Newton, assistant director of A&E services Neil Storey, emergency planning manager Robert Flute and assistant chief fire officer Peter Hazeldine watched as the students, wearing breathing apparatus and gas tight suits, rescued three patients from 'a chemical incident'.

Meanwhile, a second group of HART trainees were being trained in the use of the NHS decontamination suits, followed by a course on the use of the Police CR1 suits which was kindly run by Essex Police.

Both sets of students will, over the next two weeks, complete all their initial PPE training before returning to operational duties until they attend their first National HART training course.

The students who attended and passed the course (pictured, top) included Gary Perkiss (Ware), Derrick Sims (Letchworth), Tony Culshaw (Hertford), Gaynor Scaife (Harlow), Gavin Turner (Watford), Oliver Robinson (Watford), Stephen Thomas (Luton), Lewis Andres (Ampthill), Adam Carr (Cambridge), and Daniel Read (Cambridge).