Your current location:
Pembroke pupils get life-saving training
Pembroke pupils get life-saving training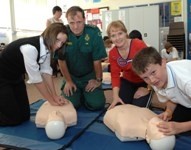 Students from a West Wales school are being taught to cope with life-threatening medical emergencies thanks to a joint initiative by the Welsh Ambulance Service and the British Heart Foundation.

Staff at Pembroke School have been trained in first aid and resuscitation techniques, and the school equipped with training dummies, as part of a project funded by the BHF.

Training in first aid and resuscitation has been provided by Welsh Ambulance Service paramedic Bryn Hazelden, the Public Access Defibrillator officer for Central and West Wales. Bryn works alongside Ambulance in Schools Officer for Wales Mike Cowley, who said, "The most recent figures show that over 6,000 pupils aged from five to 18 have been trained across Wales but by now it could be many more and this means they now know what steps they should take if someone suffers a heart attack in front of them.

"Obviously we don't teach five year olds how to do CPR (cardio-pulmonary resuscitation) but we teach them how to call for help and older children can certainly learn life-saving techniques."

Pembrokeshire has a proud record of providing first aid training in its schools through the 'Crucial Crew' initiative which each year sees up to 1500 Year Six pupils given training by Welsh Ambulance Service emergency crew members who give their own time to the project. Over the past 15 years over 20,000 pupils have been given training and Bryn said: "Pembrokeshire was the first county in Wales to get involved with this. "It's meant to be fun and it is but it is fun with a purpose and the children really enjoy it."