Your current location:
NWAS Managers achieve Chartered Management Institute (CMI) Qualifications
NWAS Managers achieve Chartered Management Institute (CMI) Qualifications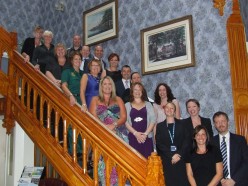 The North West Ambulance Service NHS Trust (NWAS) is delighted to announce that 26 team leaders and managers have completed Level 2 and 3 of the CMI qualification.

Level 2 is a Diploma in Team Leading, designed for current supervisors and team leaders to support the development of their skills in leading a team, contributing to planning and problem solving. Level 3 is a Diploma in Management, designed for current managers who have responsibility for a defined area of activity. This programme is suitable for managers who have responsibility for managing a group of staff including involvement in setting work objectives, assessing performance and conducting disciplinary / grievance investigations as well as developing the effectiveness of the operations for which they are responsible.

The Learning and Development team delivered the training in-house, which gave them the opportunity to tailor the course to address the real issues being currently experienced by managers. Another aim is to use those individuals to cascade their learning to other staff within the workforce.

The individuals involved have come from a wide range of areas across the trust, including paramedic emergency service, planned care, human resources, clinical governance and finance. Due to the different directorates involved, it has enabled each area to get a better understanding of each other, and also gave them the opportunity to work together to get fresh solutions to organisation issues.

Working as an accredited centre with the Chartered Management Institute has been a really positive experience for NWAS with candidates having access to a range of learning resources and wider support from a professional organisation. Each successful candidate now has the opportunity to become an Associate Member of the CMI.