Your current location:
New paramedic courses for East Midlands Ambulance Service
New paramedic courses for East Midlands Ambulance Service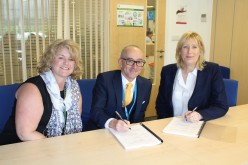 Courses for the professional development of paramedics within East Midlands Ambulance Service (EMAS) are to be delivered by Coventry University.
The collaboration is part of a new contract awarded by Health Education East Midlands (HEEM) to Coventry University to jointly deliver paramedic courses with EMAS.
The three-year contract will initially see the delivery of a foundation degree in paramedic science by Coventry University's Faculty of Health and Life Sciences and EMAS.
The first intake of learners to study the foundation degree will start in January 2016, providing an excellent career development for existing EMAS staff who would like to become paramedics.
Coventry University's Faculty of Health and Life Sciences is an established provider of paramedic education with existing courses in paramedic science and paramedic studies foundation degrees.
Professor Guy Daly, Executive Dean of Faculty of Health and Life Sciences, said: "We are delighted to have been awarded this new contract which consolidates our on-going relationship with HEEM.
"We are extremely pleased to be working with EMAS in the development of its paramedic workforce as well as contributing to the ongoing evolution of the paramedic profession more generally.
"Our collaboration with EMAS will help to support the advancement of paramedic education in the East Midlands. At the same time, we will be providing EMAS staff with the education and training that they need in order to progress professionally."
Jane Johnson, Executive Lead for Transformation and Innovation at HEEM,said: "HEEM are proud to havecommissionedCoventry University to deliver this education and training for internal EMAS staff. Fundamentally we are all here to serve the patient to ensure best patient centred care is delivered.
"Over the past couple of years, HEEM have been working with a wide range of stakeholders to identify how we can best support this profession, which has receivednational focus.
"HEEM will work to ensure the learner is at the heart of the education and training, and will monitor this contract throughout this learner journey."
Jackie Moore, EMAS Acting Deputy Director of Workforce Development, said: "I am really pleased to have launched our partnership with Coventry University. This partnership is to support internal progressions routes for our clinical staff by providing funded paramedic and post registration education.
"We really look forward to working with the university and providing our clinical staff with high quality education so that they can provide patients in the East Midlands with the best care possible."