Your current location:
New breed of ambulance paramedic steps out top of the class
New breed of ambulance paramedic steps out top of the class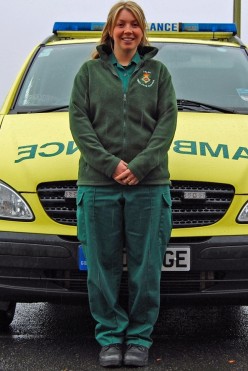 Completing a tough and demanding course with the highest honour has helped a young woman step out on to the roads of Denbighshire as one of a new breed of paramedic.

Ema Davies, 25, has joined staff at Corwen ambulance station after being one of 30 graduates to be employed by the Welsh Ambulance Service following their completion of a two year paramedic science programme at Swansea University.

The partnership between the Welsh Ambulance Service and Swansea University has helped 30 graduates gain employment across the Trust.

Students split their time between the university learning theoretical elements of the role and Ambulance Training College where they learn practical skills and supportive theory on operational placements.

Ema, who lives in Pwllheli, used her two year experience as an assistant emergency medical service controller for the ambulance service in North Wales and her passion for a challenging 'on the move' role to give her the support to tackle the course.

"From working in control and undertaking third man shifts with ambulance crews I began to understand the role and life as a paramedic and thought it would be a perfect job for me. I wanted something that wasn't office bound, exciting, challenging and communicating with people face to face. The medical side of things has also interested me from a young age," Ema explained

Signing up for the course Ema and her colleagues were mentored by road staff while they carried out the skills they learnt.

"It's an excellent way of providing the stepping stones to becoming an autonomous practitioner. It allows you to make certain decisions and practice invasive skills knowing that you have a knowledgeable and experienced person shadowing you.

"It was all tough and demanding but when your paramedic registration arrives it makes it all worthwhile. To have gained the highest grade out of everyone on the first ever course was a massive personal achievement for me."

During training Ema's eyes were opened to the work of ambulance crews which until starting the course she only ever heard about over the radio in control.

"It was great to visualise the patients and situations, after working in control and answering the emergency calls you imagine the situation in your mind as you are dealing with the call but actually going to the job is so different," she said.

"Many memories of my student days have stuck with me, like my first cardiac arrest where you realise that those chatty people you have just been with, switch to professional individuals, working as a team, knowing exactly what each person is doing with the same goal."

Now Ema is learning the geography of Corwen and the surrounding area as part of her first full time posting in the ambulance service as a qualified paramedic.

She said: "It's great to finally be part of a station and get to know all of my colleagues knowing I won't be leaving/changing in a few weeks. I'm glad everyone is nice and easy to work with, it's made my integration much easier,

Back at Swansea University a further 51 students are into their second year, alongside 46 first year freshers.

For those wishing to embark on a career as a paramedic through the course, Ema offers these words of advice: "You need to be very determined, strong willed and willing to embrace new challenges to see the two years through, but the achievement at the end beats any other diploma type course!"