Your current location:
Following in father's footsteps
Following in father's footsteps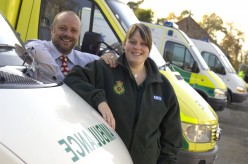 Yorkshire Ambulance Service (YAS) trainee Beckie Vale is following in her father's footsteps by training to become a paramedic at the University of Teesside.

Beckie, from Dalton, near Thirsk in North Yorkshire, enrolled on the university's Foundation Degree in Paramedic Science, run in partnership with Yorkshire Ambulance Service.

She was one of 15 students to receive their Certificate of Higher Education in Pre-Hospital Care from the university in November 2007 after successfully completing year one of the two-year foundation degree.

Her father, Gary, has worked for the ambulance service for 31 years and is currently employed as a clinical tutor at Burn Hall. He was one of the first nine paramedics in the West Midlands.

Despite never being interested in following in her father's footsteps, Beckie had a change of heart after taking a job at the YAS Communications Centre in York.

The 23-year-old, who is based at York Ambulance Station, said, "My original career plan was to join the police, but as a stopgap I took a job as a call taker in the Communications Centre. After working there for three years and observing several ambulance shifts, I decided that I wanted to make a career out of it."

Beckie is now back in the classroom for two days a week learning advanced skills. She will also continue with the placement programme which will see her being out on the road as well as based in hospitals, Intensive Treatment Units and A&E departments.

She added, "My dad feels very proud that I've decided to follow in his footsteps and I'm excited to join a profession that has given him a great amount of satisfaction over the years.

Because the service is always evolving, I could be working as an emergency care practitioner or on an air ambulance.

Whatever the future holds, I will be concentrating on completing my university course and spending time to learn the craft of the paramedic."