Your current location:
Apprenticeship promises paramedic career to more NWAS staff
Apprenticeship promises paramedic career to more NWAS staff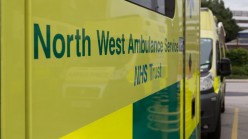 The BSc (Hons) Paramedic Science (Apprenticeship) Degree is being delivered in partnership with the University of Cumbria and will take just two years to complete compared to three years for a traditional degree in paramedic science.
NWAS is one of seven ambulance trusts that are joining with Cumbria University for this exciting progression programme, which will see around 1000 paramedics trained over the first two years nationally, significantly increasing the country's paramedic workforce.
Within NWAS, the programme is open to our existing emergency medical technicians that hold the Level 4 Associate Ambulance Practitioner Diploma to enable them to become fully qualified paramedics.
This means the highly respected profession will be open to people to continue to work on the front line whilst gaining a full BSc (Hons) in Paramedic Practice, allowing each ambulance service to develop its staff and grow its own workforce.
The intention is to offer recruits blended learning to allow them to continue their normal frontline roles while studying. This would involve a mixture of classroom and online learning, practical sessions, tutorials, and non-ambulance placements.
The first cohort of 82 emergency medical technicians (EMT) are due to start the course this month (March). Due to the pandemic the first ten days of teaching will all be online. This change was made practically overnight responding to the national lockdown announced in early January.
Tom Davidson Director at Centre for Excellence in Paramedic Practice for the apprenticeship said the quick turnaround was testament to the flexibility of the course.
"We've designed this apprenticeship so that it can react and flex to meet the needs of the ambulance trusts and this approach was put to the test recently when we converted the initial first few weeks' training to be delivered fully online in response to safety concerns.
"But it's a testament to everyone's commitment that we could easily adapt the course and that we kept going despite the challenging and turbulent times we are operating in."
Paula Davies, Head of Education for NWAS said: "It's fantastic that we're able to launch National Apprenticeship Week with news of this degree.
"In spite of the challenges that COVID has thrown at us, we've been able to push through with this collaborative vision and have continually adapted to find ways to be able to deliver teaching and learning.
"This will give our existing EMT staff a new pathway to develop their careers as paramedics and also allow the trust to develop our workforce, and nurture and shape the talents we already have. I know that our first cohort of students
can't wait to get started."