Your current location:
Ambulance workforce boost in Essex
Ambulance workforce boost in Essex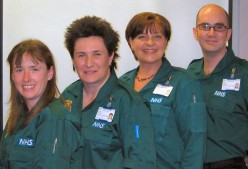 Four of the new recruits - Mandy Mackey, Jaqui Curling, Debra Hounsome and Andrew Warner

Six new ambulance transport care assistants have joined the East of England Ambulance Service.

Based in ambulance liaison offices (ALO) at Broomfield (Chelmsford) and Southend hospitals, the team are trained in manual handling, patient assessment, dealing with patients that have dementia, driving skills, and how to deal with a patient in an emergency situation.

The group has spent four weeks in robust training at the service's Essex HQ in Broomfield, which has also included First Person On Scene training - basic first aid including basic life support and defibrillation.

Course director Gerry Brown, who was joined in training the group by tutor Martin Armstrong, said, "This has been a great group to teach; they did very well in their exams and practicals and it's been very fulfilling to see them develop skills and confidence over a short space of time."

Clinical learning and development manager John Hewitt added, "It's been great to see this course come to fruition. We're sending out committed and hard-working people to deliver the high quality of care and attention our non-emergency patients quite rightly expect."