Your current location:
Ambulance Technician students begin training
Ambulance Technician students begin training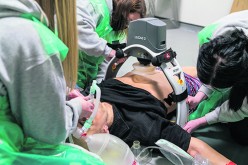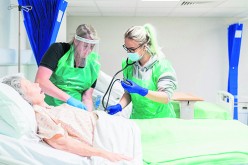 The first cohort of Ambulance Technician Practice (ATP) students have begun training at a purpose-built Nottingham Trent University (NTU) facility in Mansfield, which features a mock hospital ward and lifelike mannikins.
The Certificate of Higher Education prepares students to become part of a modern emergency team which delivers high-quality pre-hospital care.
Two groups of ATP trainees per year will be hosted at the new NTU University Centre, with a third cohort studying at NTU's Clifton campus.
Along with face-to-face tuition at the University and independent activities, such as case studies or problem-based learning scenarios, the course includes a significant amount of time on placement within the ambulance service to relate theory and practice.
While on campus, students gain experience of working with men, women, and children with a variety of injuries, and in a range of settings, through the use of Lifecast Body Simulation mannikins - designed and produced at Elstree Film Studios in London.
Chris Pritchard, course leader and senior lecturer in Paramedic Practice and Emergency Care at NTU's Institute of Health and Allied Professions, said: "This is a challenging but very rewarding career on the frontline of our health service, helping people at their time of most need. Our programme is distinctive as the vast majority of pathways to ambulance technician roles are within the ambulance services, whereas this course gives students a full university experience alongside their training.
"Our experienced tutors and practical facilities prepare them to enter a modern NHS with the skills needed to keep calm and efficiently assess, treat and manage patients at the scene of an accident or in their home."
ATP student, Michelle Whitley, said: "I've always wanted to work within the ambulance sector and the university made this possible. My favourite thing is being in the building on practical days. The course facilities are 10 out of 10, brand new. Everything we need is accessible and it's been easy to make friends our cohort is great, and the tutors are fabulous too."
• For further information on Paramedicine and Nursing courses at NTU visit click here