Kwik Fit and Air Ambulances UK announce new national partnership
Kwik Fit and Air Ambulances UK announce new national partnership
Thursday, 12 October, 2023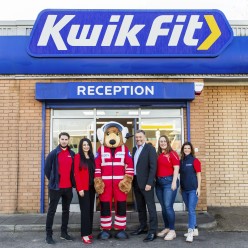 Simmy Akhtar AAUK CEO, (2L) and Roger Griggs, Kwik Fit communications director (3R) join the AAUK partnership team to announce the new relationship
Kwik Fit, the UK's leading automotive servicing and repair company, today announces that it has chosen Air Ambulances UK (AAUK) as its national charity partner.
Air Ambulances UK is a national organisation which champions and supports the lifesaving work of the UK's 21 air ambulance charities. Through Air Ambulances UK, Kwik Fit will raise funds for all those 21 regional charities, as well as help increase local and national awareness of their essential missions.
As the charities receive very little or no central or local government funding, almost all air ambulance missions in the UK – over 100 per day - are funded through donations. The support of Kwik Fit as a national partner will help raise awareness of the vital work of the air ambulance services across the UK, while enabling funds to be raised for staff and customers' local air ambulance charities.
From today (11 October) Kwik Fit's customers will be able to make donations to Air Ambulances UK in more than 600 Kwik Fit centres across the country, as well as when making a purchase online at kwik-fit.com. Kwik Fit staff will be carrying out a range of fund-raising activities over the coming year, supporting the national campaign as well as the local air ambulance charity which serves their own community.
Mark Slade, managing director of Kwik Fit, said: "The air ambulance charities across the UK provide essential support on a daily basis, helping improve patients' chances of survival by providing life-saving pre-hospital care. We have seen the positive impact which Kwik Fit employees, industry partners and customers can have in supporting national causes and we looking forward to making a major contribution to the UK's air ambulance network."
In recent years Kwik Fit charity partnerships have raised over £1.6 million for national charities including Prostate Cancer UK, Children with Cancer UK and the Disaster Emergency Committee's Ukraine Humanitarian and Turkey-Syria Earthquake Appeals, as well as a range of local causes.
Simmy Akhtar, CEO of Air Ambulances UK, said "We are delighted and very grateful to have been chosen by Kwik Fit to be its national charity partner. Across the UK air ambulance charities are carrying out over 100 missions every day. These vital missions are critical in providing urgent care to improve the outcome for patients after life-threatening injury or illness, but most are funded entirely by donations. With each mission costing, on average, nearly £4,000 the national support from Kwik Fit will make a significant difference to the capabilities of all the air ambulance charities and help save even more lives."