Cutting-edge hybrid cars helping to improve London's air and provide excellent patient care
Cutting-edge hybrid cars helping to improve London's air and provide excellent patient care
Wednesday, 20 September, 2023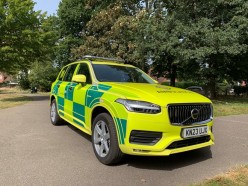 New hybrid cars are driving forward London Ambulance Service's ambition to provide care for patients using the greenest fleet of response vehicles anywhere in the country.
As well as being greener the 65 hybrid vehicles, which run on both petrol and an electric motor, come with modern features to help improve care for patients. These include the ability to charge medical equipment like defibrillators and suction units on the go, and motion sensors which remove the need for keys to open the boot to reach medical kit.
The new vehicles – a mixture of Volvo XC90s, XC60s and Ford Kugas – are part of the Service's £31 million investment programme which has already seen the roll out the biggest fully electric fleet of fast response cars anywhere in the UK.
Daniel Elkeles, Chief Executive at London Ambulance Service (LAS), said:
"We're continuing to modernise our fleet and improve the health of Londoners with these new hybrid electric vehicles, which are better for the air in our city, our medics and our patients.
"We want to be a greener and more sustainable organisation and that's why we're scaling up our fleet of green and energy-efficient vehicles. We are making great progress on the road to zero emissions with value for money."
Of the new response cars, 51 will be used by clinical managers to get to incidents. The remaining 14 vehicles are being rolled out for advanced paramedics and Emergency Preparedness, Resilience and Response teams (EPRR), who treat patients at major incidents and in dangerous environments.
Rob Macintosh, Head of Fleet at LAS, said:
"Every second counts in an emergency and energy-efficient technology will make it even easier for our responders to reach patients faster whilst helping to make the capital a greener and healthier place for Londoners.
"Greener vehicles are vital for our staff and communities and we have already invested £31 million to introduce brand new low-emission vehicles, create electric charging points, upgrade our infrastructure and recruit more mechanics to maintain these vehicles as part of our mission to move to a net-zero emissions fleet by 2030."
Over the last few years, LAS has taken action to reduce the environmental impact of its operation and now has the largest fleet of fully-electric vehicles in the country, with a total of 42 fully-electric fast-response cars and three electric motorcycles.
In April, the Service started rolling out 128 new ambulances, which are greener and more efficient than the Service's current ambulances and meet the clean air zone targets in London.
All the fleet are part of the Service's efforts to comply with the ultra-low emission zone (ULEZ) in London and to reach its zero emission goal by 2030.