Electric car arrives at St John Ambulance
Electric car arrives at St John Ambulance
Monday, 18 September, 2023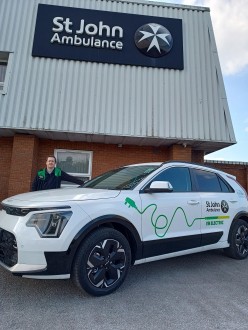 Neil Spencer takes delivery
St John Ambulance's new electric car arrived at the Hull depot recently as part of a project to replace existing support cars across the country thanks to a generous donation from the Medlock Charitable Trust.
The generosity of major donors makes a huge difference to St John Ambulance, with local communities, patients, volunteers and the environment benefiting from the investment they make in its lifesaving work.
In August 2022, the Medlock Charitable Trust pledged to match the fundraising efforts of St John and communities across England, of up to £1 million, enabling our charity to purchase greener, cleaner, more efficient emergency vehicles, over three years.
The matched funding incentive helped to endorse local and national fundraising across the country and, in total, St John raised nearly £130,000 towards the electric cars.
Hull is one of the lucky locations to receive an electric vehicle, which will be used in the Hull, East Riding and North Lincolnshire areas as well as areas further afield as and when required, and the teams are delighted to be able to use it.
Neil Spencer, District Fleet Officer at St John Ambulance, said: "Here at St John Ambulance, we are a forward-thinking and future-ready organisation, and nothing highlights this more than the introduction of our new Kia Nero electric vehicles, kindly donated by the Medlock Charitable Trust.
"These vehicles offer us a wide range of uses and will further help us support our fantastic volunteers to do what they do best.
"They are extremely comfortable to drive, easy to charge and have a massive load of space so we can carry five people and equipment to and from events.
"A big thank you to the Medlock Charitable Trust for the kind donation of these vehicles across the country, we will certainly put them to good use."
St John's investment in electric vehicles is part of our ongoing Environment and Sustainability Programme. As a charity, we are committed to protecting human health and the environment within our operations, buildings, management of our people, and relationships with external organisations and associates.
Initial plans in St John Ambulance's 10-year fleet strategy include the purchase of 12 electric cars and 15 community support units, plus the replacement of ageing ambulances with state-of-the-art new vehicles.
As a charity conscious of our impact on the environment, St John is looking at alternatives to petrol and diesel, and how our carbon footprint can be reduced. With the disposal of old diesel vehicles and replacing them with new greener alternatives, St John is on the road to achieving its sustainability goals.
Modern vehicles are also safer and more comfortable, so they're better for our patients and people. The trust – a family-run grant-making organisation from Bristol – also supported St John Ambulance's Christmas appeal in 2022 by matching donations up to £55,000, helping us to achieve a grand total of almost £130,516 which could enable us to train more than 1,000 volunteers in lifesaving skills and purchase vital equipment and supplies for them to use.
We are immensely grateful to David Medlock and his team for their extraordinary contribution to our work.
David Medlock, Chairman of The Medlock Charitable Trust, said: "I have been involved in the voluntary sector since I was 16 years old, and so it is a huge privilege for myself and my family to be able to support St John, a charity where volunteers are so central to their work.
"One of the main attractions for us with this particular project was that, by encouraging matched fundraising, the impact could result in something that is much bigger than the actual investment we are putting in.
"I am delighted that our support has already inspired local communities to participate in local fundraising efforts for these new electric cars, and that together we can help St John grow and reach even more communities."
Martin Houghton-Brown, Chief Executive at St John Ambulance, said: "I am so grateful for the enormously generous £1 million pledge from The Medlock Charitable Trust, helping us to transform our Community services. Our fleet is an important part of our toolkit for delivering First Aid where it is needed most. We are committed to our vehicles being greener, and this smart investment from David and the folk at the Medlock Trust has boosted this brilliantly. I know that all St John people would like to say thank you for this support, but especially our thousands of young people for whom the environment is one of their highest priorities."
For more information about St John Ambulance and the work it does, visit sja.org.uk