Wellbeing dogs to support staff
Wellbeing dogs to support staff
Wednesday, 06 September, 2023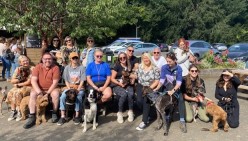 East of England Ambulance Service NHS Trust (EEAST) has taken a remarkable step towards prioritising the mental health of its staff by introducing approved support dogs.
This pawsome new scheme involves the use of four-legged friends to provide essential support and companionship 24/7 to EEAST staff members after traumatic events.
EEAST has so far enlisted 17 four-legged friends, with an additional 50 awaiting assessment. Known as GoodDOGS, these canine companions are the personal pets of staff members and have undergone assessment by a staff representative, authorised by Canine Concern, the overseeing organisation.
Those pups approved for participation receive their own identification badges and are available round the clock to provide support, especially after traumatic events, and the initiative represents a significant stride in employee wellbeing, demonstrating the Trust's commitment to providing support to its dedicated and valued staff members.
To celebrate the introduction of these furry additions to the EEAST family, a dog walk was held in Bury St Edmunds last month.
Amanda Harris, project lead, said: "The inspiration for this initiative came from a proposal in 2019 to have staff members bring their own dogs to workstations, emergency operation centres, and offices. Although the proposal was initially approved, the pandemic hindered its implementation. When I learned about Cambridgeshire Police's welfare dog project in 2020, I realised it was exactly what our teams needed. After consultations and discussions, I decided to revive the project and introduce our own GoodDOGS to EEAST."
The positive effects of interactions with dogs on human health and wellbeing are well-established. Dogs contribute to increased physical activity, reduced risks of cardiovascular disease, and enhanced immunity to allergies, particularly in children. According to research conducted by the University of Lincoln, dogs play a pivotal role in saving the UK health sector an estimated £2.45 billion annually, primarily by reducing doctor visits and significantly improving mental health and overall wellbeing.
The rollout of the GoodDOGS scheme commenced in April, beginning with the recruitment of the first three dogs. Subsequent assessment days have been held in Chelmsford, Longwater, Bedford EOC, and Melbourn HQ.
Caption-EEAST staff walking their dogs ahead of International Dog Day.