Ambulance Crews getting back on the road with new referral system
Ambulance Crews getting back on the road with new referral system
Wednesday, 06 September, 2023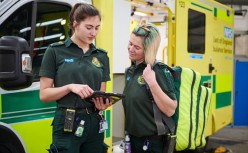 A digital solution developed to streamline the process when the East of England Ambulance Service (EEAST) refer patients to out-of-hours primary care is helping get ambulance crews back on the road quicker to respond to 999 calls.
Ambulance crews at EEAST in Norfolk and Waveney and Mid and South Essex are now able to transfer patients directly to the NHS 111 service for support from primary care using a new portal - the Health Care Professionals (HCP) Portal app.
Developed by patient management software providers, CLEO Systems, its parent company Integrated Care 24 (IC24), the NHS 111 provider in Norfolk and Waveney and mid and south Essex, and EEAST, the portal is accessible on the Trust's iPads that have been rolled out to all frontline staff at EEAST.
Previously, when referring a patient to primary care out of hours, an ambulance crew would telephone NHS 111 to request a clinician call back, a process which could take up to 15 minutes.
Since February 2023, ambulance crews have been able to use the HCP Portal app and this streamlined process is saving crews over ten minutes per patient to complete the referral to NHS 111.
Crews fill in details of the patient's symptoms then select one of five timeframes for a call back from a healthcare professional, ranging from 30 minutes, if they are remaining on scene, to four hours if it is a less urgent case.
Once the referral has been made, ambulance crews are able to leave the scene safe in the knowledge that the case will be followed up in the timeframe suggested. All data is fully auditable.
Ant Brett, Head of Quality Improvement and Professional Standards, said:
"This is another excellent example of EEAST embracing new technology to enhance the care that we provide our patients and improve the safe delivery of our service.
"With patients who we have assessed receiving a faster health outcome, followed by our ability to release an ambulance more quickly as a result, patients in the community in urgent need of a medical assessment and treatment will also receive a response sooner.
"In some cases, particularly when the ambulance service is busy, this amount of time saved could provide crucial in a patient's outcome."
David Brown, Managing Director, CLEO Systems said:
"It is our ambition to make care services as seamless and as efficient as possible using digital solutions, which in this case enables busy Paramedics to be able to focus as much time as possible with the patient. The HCP Portal provides confidence in its efficiency plus confirmation that the case has been received, negating the need for this to be conducted via phone call."