Proparamedics Embraces Inclusivity by Becoming First Medical Services Provider to Become JAM Card Friendly
Proparamedics Embraces Inclusivity by Becoming First Medical Services Provider to Become JAM Card Friendly
Friday, 11 August, 2023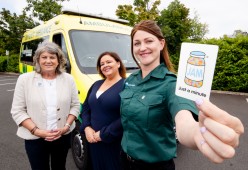 Proparamedics, based in Northern Ireland, has teamed up with the NOW Group to become the first medical services provider to become JAM card friendly, demonstrating its dedication to supporting individuals with hidden disabilities.
Established in 1999, Proparamedics has a strong track record of providing exceptional medical services ensuring the highest level of care and safety. By becoming JAM Card friendly, the company aims to increase inclusivity and accessibility for all its patients across Northern Ireland.
Developed by the NOW Group, an all-Ireland social enterprise which supports people which autism and learning difficulties into sustainable employment opportunities, the Just A Minute (JAM) Card is a simple, discreet yet extremely effective tool that allows those with learning difficulties, autism or any communication barrier to ask for Just A Minute in any social situation, in a non-verbal way.
"Ensuring that our services are inclusive and accessible to everyone in society is a top priority for Proparamedics, which is why we decided to sign up for JAM Card training," explained Heather Hamill-Vaughan, Managing Director of Proparamedics.
"Due to the nature of our work, we quite often support people during a time of illness and vulnerability. Any steps we can take to make that process a little easier, including making our services more user-friendly for those with autism and learning difficulties, is absolutely essential.
"We're so proud to announce that we're a JAM card friendly company and to support the NOW Group in this worthwhile initiative that ensures people with autism and learning difficulties are able to communicate and access important services without barriers."
As well as completing JAM Card training, Proparamedics has also furthered its commitment to supporting vulnerable members of society by recently completing neurodiversity awareness training which will help staff to identify different conditions and community effectively.
Cheryl Ball, Training Development Manager of the NOW Group comments: "Having access to medical services is such an important aspect of our daily lives and everyone should feel comfortable and confident whilst doing so.
"We are so pleased that Proparamedics has joined the JAM Card family and that staff have also completed neurodiversity awareness training. Their adoption of the JAM Card initiative reinforces their position as a leader in the medical sector, setting an example for other providers to follow suit."
Cheryl adds: "Since launching the JAM Card initiative in 2012, the scheme has been a resounding success with more than 2,500 organisations across the region participating in the training programme. With its non-verbal communication approach, JAM Card enables those with learning difficulties, communication barriers, and various disabilities to feel more comfortable and confident in social situations."
To learn more about Proparamedics' services, visit: www.proparamedics.com. For more information on the JAM Card initiative, visit: www.nowgroup.org.