Ground-breaking degree turns out first qualified paramedics
Ground-breaking degree turns out first qualified paramedics
Tuesday, 08 August, 2023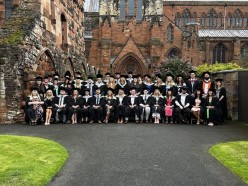 Las Medics graduate
A group of London Ambulance Service medics are celebrating completing a new two-year university degree in paramedicine.
The 45 students are the first London Ambulance Service cohort to graduate from the University of Cumbria's Paramedicine Course.
The new programme, which is fully-funded for the students and started in 2021, aims to make becoming a paramedic more accessible and allows clinicians who are already on the frontline to continue to work while they earn their degree.
Lee Knowles, 50, from East London, was a driving instructor until the age of 46. He started working on ambulances four years ago and is one of the front-line workers to benefit from the programme.
He said: "I got my paramedic registration this month as I turned 50. At my age, to be given the opportunity to go back to university, debt-free, was amazing. It has opened many doors for me.
"I left school at 16, with good enough GCSEs. But 30 years ago, I would have never thought I would have joined an ambulance service and even possibly become a qualified paramedic."
Donna Buckman, 35, from Surrey, worked as a florist before joining the Service at 30. She said the course was a challenging but rewarding experience:
"I don't think I would have considered a degree without this opportunity.
"I was diagnosed with dyslexia years ago and more recently with dyscalculia. I knew that would be a challenge, but I tried not to let that get in the way.
"When I saw I had finished with a first, I was shocked. I didn't know I could do it because I found the academic side of things challenging. I hope my achievement inspires other neurodivergent people to not give up on their dreams."
Jamie Haig, 47, from North London, became an ambulance worker in 2019 after a career in IT.
He said: "I went through a period in my life when I needed change. I became an Emergency Medical Technician four years ago and that change was wonderful - I wish I'd done it 20 years ago.
"But as fantastic as the Technician job was, I wanted to qualify as a paramedic. It was great to be back in the classroom, I loved the academic challenge. This degree has opened up a huge number of options for me. I have nothing but gratitude for this job."
Dr John Martin, Chief Paramedic at London Ambulance Service, joined the celebrations at University of Cumbria on Wednesday and said:
"Huge congratulations to the graduates - it's incredibly inspiring to see them get to this milestone. Studying for a university degree while working on the frontline can be extremely challenging, so everyone should be immensely proud!
"We know demand on our services continues to grow and the need to secure a pipeline of paramedics is a key priority. This degree has created a new route, helping our staff gain the same standards of education as those who take the usual degree route, while continuing to work on the frontline.
"It has also proved to be an amazing opportunity for those who may have thought university wasn't for them and we hope it will help us attract a more diverse pool of talent from the local area."
The new degree programme runs alongside the successful Associate Ambulance Practitioner apprenticeship, which is a route to becoming an Emergency Medical Technician (EMT) without any prior medical qualifications. Following the apprenticeship, frontline workers can move onto the two-year degree course without pausing their careers.
In 2022, London Ambulance Service launched the most ambitious recruitment programme in its history. In the last year, 1600 people have joined the Service including 900 frontline ambulance staff and 370 call handlers. The increased numbers mean the Service now has around 400 ambulances on the road every day responding to 999 calls - 100 more than pre-pandemic levels.
Last year, London Ambulance Service was ranked as the top NHS employer for apprenticeships in the country by the Department for Education - ahead of big name companies like Tesco and Amazon.