600 apprenctices join Medipro
600 apprenctices join Medipro
Wednesday, 25 August, 2021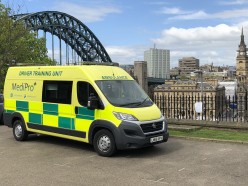 Medipro Limited has been appointed as an education provider to take on over 600 apprentices who were doing their Level 3 and Level 4 ambulance apprenticeship training with East of England Ambulance Service. Medipro will also provide education and training to 297 new learners who will be commencing their apprenticeship shortly.
Kevin Scorer, Head of Education at Medipro said: "We are working hard behind the scenes with Health Education England and East of England Ambulance Service to ensure all apprentices can continue their learning and that no one will be affected negatively by the transition. Our aim is to minimise any disruption and make the whole process as seamless as possible."
All apprentices will be transferred to Medipro in the next 12 weeks so the learning can commence.
Kevin continued: "Medipro will speak to each and every learner in order to evaluate where they are in their journey, and support them to achieve their career goal of completing the apprenticeship. We will continue to provide a supportive and safe learning environment, consider individual learning needs and offer fair and consistent appraisal."
Medipro Limited was founded in 2010 and to date have trained thousands of students, offering them the best experience in medical practice, and building its reputation as being one of the best providers of pre-hospital care education in the country.
Medipro started providing ambulance apprenticeship in 2019, securing contracts with biggest ambulance services NHS trusts including London Ambulance Service as well as several private services across the country.
For more information about Medipro visit www.medipro.co.uk