One Broker Ambulance Names TASC as its Charity of the Year
One Broker Ambulance Names TASC as its Charity of the Year
Friday, 30 July, 2021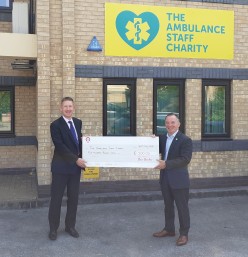 L-R: Rob Rowley (One Broker Ambulance), Karl Demian (TASC)
One Broker Ambulance is delighted to announce that it has named The Ambulance Staff Charity (TASC) as its Charity of the Year 2021/22, in support of its work with emergency services teams across the UK.
The relationship kicked off with an initial £500 donation in June, which will be followed by fundraising activities and challenges throughout the coming year. In addition, One Broker will donate £15 to TASC for every ambulance business that becomes a new client over the next 12 months.
The donations will help the charity to continue with its vital work, supporting ambulance staff past and present and in both the public and private sectors, students, volunteers and their families in a variety of ways. From providing hardship funds to covering the cost of counselling and physical rehabilitation, TASC gives back to the people who care for us, both within the NHS and the private sector.
Having provided insurance broking services for independent ambulance companies for several years, One Broker Ambulance knows the challenges faced by the sector and its people. Naming TASC charity of the year was a natural progression, allowing the team to give back to clients and the wider community.
Says Rob Rowley, Associate Director at One Broker: "The Ambulance Staff Charity is a fantastic organisation and we're delighted to provide our support. The last year has taken its toll on all of us – and it's been especially tough for healthcare workers, with changing workloads and increased safety provisions and untold levels of stress. This is our way of saying thank you for all their hard work."
Adds Karl Demian, CEO at TASC: "We're thrilled about working with such a passionate team, all of whom are dedicated to supporting ambulance staff and their families. The funds raised by One Broker will allow us to support even more people at a time when the sector still adapting to the challenges raised by coronavirus. We can't wait to see the fundraising activities the One Broker Ambulance team has planned for the weeks and months ahead!"