Tougher sentencing to protect ambulance staff
Tougher sentencing to protect ambulance staff
Wednesday, 09 September, 2020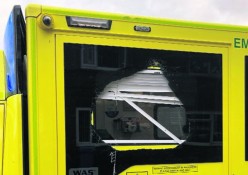 North East Ambulance Service (NEAS) is calling on the court system to impose the full powers available to them when it comes to sentencing defendants who have assaulted its staff.
NEAS was invited to have its say last month as part of a Government consultation on doubling the maximum penalty for assaulting an emergency worker.
The announcement made by the Home Secretary came on the same day NEAS announced it had seen three separate physical attacks on crews that weekend. There have been several more attacks on assaults on staff since then.
Over the last three years, the service says 171 incidents of assaults reported to the police. Of those, 40 resulted in criminal convictions. None were imprisoned.
In a joint letter from NEAS Chairman Peter Strachan and Chief Executive Helen Ray, written on behalf of the Trust's Board of Directors, reads: "The violence and frequency of these assaults has left us gravely concerned and our crews anxious for their own safety.
"While we recognise that the sentencing by courts will take account of the severity of the crime, our experience is that the verbal abuse and intimidating behaviour can have as long-lasting impact on individuals as some physical violence.
"It is apparent that while the courts already have the power to imprison a defendant for up to 12 months, they are not using them. My Board believes that the courts need to use their full powers. There should be an expectation that if you commit such an offence, the most likely outcome is prison.
"Sentences should also act as a deterrent as well as a punishment. If we are serious about sending a message of support to our emergency workers, and a message of toughness to those who commit offences against them, increasing maximum sentences is not the way. Imposing maximum sentences in the first place is."
The Assaults on Emergency Workers (Offences) Act 2018 allows courts to impose a maximum of 12 months in prison on anyone found guilty of assaulting a police officer, firefighter, prison officer or paramedic. Judges must also consider tougher sentences for more serious offences - such as GBH or sexual assault - if the victim was an emergency worker.
The latest consultation looked at whether to double this maximum sentence to two years imprisonment.
NEAS staff experience 12 assaults per week on average, two of which will involve physical violence.
As of 30 June 2020, the service has recorded 73 incidents of common assault, 52 incidents involving threatening behaviour and 31 non-injury physical assaults.
Alcohol remains the single largest contributory factor, followed by mental health and drug misuse. The day or time of the week does not appear to be a factor in assaults, with this year's data showing staff are as likely to be attacked on a Tuesday (16.4%) as they are on a Saturday (16%).
The service's consultation response outlines the lasting impact assaults can have on staff, ranging from marriage breakdowns to leaving the profession altogether.
Beyond this, there is a wider cost to the service. On reviewing just 41 cases between April 2017 and October 2019, the service lost 411 days to staff sickness at a cost of £141,824 in overtime costs to cover missed shifts following an assault. In addition, the cost of recruiting and training replacements for those staff who have left ranges between £20,000 and £30,000 per person depending on the role and clinical skills needed in the post.
On top of this is the cost of repairing damaged vehicles and equipment. The cost of repairing the two vehicles damaged during assaults against staff last month was in excess of £1,000. Both were off the road in our workshops for nearly three weeks being repaired, which removed a valuable and much needed public resource from service.
The letter also outlines two examples of recent convictions:
One case involved a clinical care assistant, who was punched in the face and spat upon in a public place in September last year. The defendant pleaded guilty to assaulting an emergency worker and was fined £80
In another example, a double-paramedic crew were assaulted in the patient's home. The defendant initially denied the charge, but pleaded guilty in crown court and was fined £380.