NHS 111 First North West launch
NHS 111 First North West launch
Wednesday, 09 September, 2020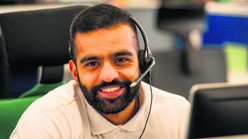 Following pilot schemes in other regions the new service which aims to reduce overcrowding and risk of transmitting COVID-19 in hospital emergency departments is being rolled out across the North West in time for winter.
The enhanced NHS 111 First service will offer a booked time slot in emergency departments to patients with an urgent but not serious or life-threatening illness or injury.
The new approach is being rolled out in phases across the North West. Blackpool Teaching Hospitals NHS Foundation Trust, Warrington and Halton Hospitals NHS Trust are the first. It will be tested and evaluated before being rolled out more widely by all hospital trusts with an emergency department through the autumn.
The national NHS 111 First programme is being introduced to improve outcomes and patient experience in healthcare settings during COVID-19 and provide a long-term model of access to urgent and emergency care services.
In the North West approximately 60% of emergency department attendances are self-presenting, walk-in patients, and the majority occur during the day and early evening, which has implications for managing social distancing in waiting rooms.
Patients who are thinking about going to an emergency department will be asked to contact NHS 111 first instead of walking in unannounced. The service, in conjunction with local clinical assessment services (CAS), will where appropriate book them a time slot for attendance at an emergency department or may book or direct them to a more appropriate local service, which could be an urgent treatment centre, GP practice or pharmacy. People who need emergency care should still call 999.
NHS North West Medical Director Dr David Levy said: "By asking people to contact NHS 111 first and advising them where and when to go, we can more safely manage waiting areas, reducing the potential for crowding and thus significantly lowering the risk of COVID-19 transmission.
"No patient will be turned away if they self-present at an emergency department but if people contact NHS 111 first when they need urgent care, advice on the best care can be arranged before they have to travel anywhere and often urgent issues can be fully dealt with by telephone or video consultation.
"If a face-to-face consultation is needed it can be arranged there and then, without any further delay meaning patients will know exactly where to go, and when. This will help to ensure safety and reduce waiting times for all patients."
Jackie Bell, Head of 111 at North West Ambulance Service, said: "When contacting NHS 111, people are asked a series of questions about their symptoms to determine which local care service will be able to provide the right care for their needs. Our friendly health advisors are trained to guide people through the questions and direct them to the most appropriate service, and we have clinicians on hand to offer additional expertise and speak to patients if they need further assessment.
"Being able to provide patients who need emergency department care with a specific timeslot to attend is a great expansion to the service we already offer and will help to keep people safe and well."