Inivos launches rapid-deployment, on-demand Ambulance Readiness Centre
Inivos launches rapid-deployment, on-demand Ambulance Readiness Centre
Thursday, 09 July, 2020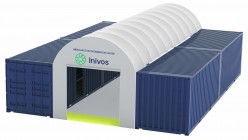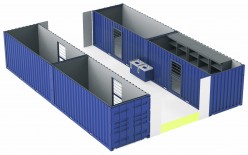 Leading infection prevention and control experts, Inivos, have announced the launch of their innovative new Ambulance Readiness Centre product.
The rapid-deployment, on-demand ambulance decontamination centre is the world's first 'roll-in, roll out', on-location hygiene service, saving time for emergency responders by eliminating the need to travel off-site for vehicle cleaning.
Inivos is one of just 12 companies shortlisted for use by the Rapid Sanitising Technology for Ambulances to supply decontamination to ambulances in Wales using their innovative Ambulance Readiness Centre. The project, which received more than 200 applications, was a collaboration between the Small Business Research Initiative (SBRI), Centre of Excellence, the Welsh Government, the Welsh Ambulance Services NHS Trust (WAST), the Defence and Security Accelerator (DASA), Science and Technology Laboratory (DSTL).
The Ambulance Readiness Centre is designed to be used with both hydrogen peroxide vapour (HPV) and ultraviolet-C light (UV-C) decontamination robots to reduce pathogenic micro-organisms, including the SARS-CoV-2 pathogen which causes COVID-19 to a safe, non-infective level. The technologies have been proven to achieve a log6 reduction – meaning micro-organisms are reduced to as little as one-millionth of their original level.
Ambulance drivers can simply drive into the Ambulance Readiness Centre, exit into a safe zone within or outside the Centre, and allow the automated decontamination robots to effectively decontaminate pathogens from the vehicle's surfaces, equipment and staff personal protective equipment (PPE).
Using UV-C decontamination robots, known as 'Ultra-V', the Centre provides decontamination of vehicles between callouts in as little as fifteen minutes, compared to at least 45 minutes currently required to manually clean an ambulance after transporting a COVID-19 patient.
At the end of a shift, a terminal clean and decontamination service can be deployed using hydrogen peroxide vapour robots. Known as ProXcide, the automated technology combines a low concentration of hydrogen peroxide solution with automated validation, meaning high levels of efficacy can be achieved without the need for high concentration chemicals.
Tautvydas Karitonas, Head of Research and Development at Inivos, commented:
"Now more than ever it is vital that emergency vehicles like ambulances are being thoroughly decontaminated to stop the spread of harmful pathogens to frontline workers and patients alike.
With further peaks of COVID-19 expected, a terminal clean at shift end is not enough to reduce viral transmission within ambulances. For that reason, we've created the world's first dedicated space that can be used on site, in conjunction with powerful UV-C and HPV decontamination robots, to create an Ambulance Readiness Centre that can provide mid-shift cleans between call-outs as well as the all-important terminal clean."
Inivos, who are leading UK experts in infection prevention and control, regularly decontaminate more than a third (41%) of NHS hospitals with their innovative hydrogen peroxide vapour and ultraviolet-C light technologies.
Since the outbreak of COVID-19, the company has developed several ground-breaking new technologies to support hospitals, care homes, dental surgeries and hospices with their infection prevention and control requirements.
They launched Proxpod, a rapid-deployment chamber which uses hydrogen peroxide vapour (HPV) to effectively decontaminate PPE, in April. This was followed by Ultra-V Connect, a remote ultraviolet-C (UV-C) decontamination device ideal for use between aerosol-generating procedures, as it can reduce pathogens to a safe level in eight minutes.
• Visit https://www.hygiene-solutions.co.uk/ambulance-readiness-centre for more information.