Blue Monday shouldn't be depressing - it's a chance to say 'thank you' to blue light workers
Blue Monday shouldn't be depressing - it's a chance to say 'thank you' to blue light workers
Wednesday, 15 January, 2020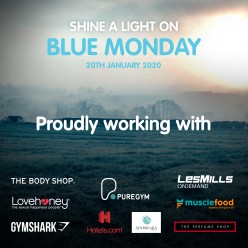 Emergency service workers up and down the UK are being celebrated for their service over the winter months, with 'Blue Monday' being renamed 'Blue Light Monday' on 20 January.
Over Christmas 2019, over 400,000 frontline NHS staff worked on Christmas Day, Boxing Day and New Year's Eve1. This number does not include those working in social care positions or other 'blue light' professions such as police and firefighters - many of whom work unsociable shifts outside of 9-5 hours.
Monday 20 January has historically been known as Blue Monday - the most depressing day of the year.
But for emergency workers, the pressure during the winter months is real, heightened by the number of A&E admissions this winter projected to be even higher than 2019 figures of 6.2 million2, and delivering the UK's biggest-ever flu vaccination programme3.
The campaign to turn this day around and instead take the time to say 'thank you' is spearheaded by Blue Light Card, the UK's largest discount service for public sector workers.
Rachel Ramsay, head of marketing at Blue Light Card, explains why this Blue Monday, it pays to be positive. She said:
"This year, instead of focusing on the negatives, we want one day to be positive, and recognise the hard work and dedication by those who work tirelessly all year round.
"We want to go further for those who go furthest for us. Whether we're thinking about those working in busy A&E departments, social care workers or even fire and rescue teams - these people manage to support us when we're at our most vulnerable throughout the most difficult circumstances. They cheer us up when we're at our very lowest, and we are so thankful."
Dr Phil Parker, PhD in the Psychology of Health and Lecturer at London Metropolitan University, explains why the power of positivity is so important psychologically within healthcare environments. He said:
"Research shows that staying positive has a beneficial impact on our physical recovery when we've experienced trauma or illness.
"As humans, we have evolved an inbuilt wiring that alerts us to danger and triggers the fight or flight response. It's a brilliant system but over a long period of time, constant stress or feeling down has a significant negative effect on our immune system.
"Focusing on remaining positive enables us to communicate better, be open to ideas or strategies for change and be more psychologically resourceful. It can even help us literally see better - combatting that tunnel vision which can affect us in moments of crisis."
To get involved in the campaign on social media and say thank you to your local NHS workers and emergency services, use the hashtag #BlueLightMonday on Twitter, Facebook and Instagram or visit https://www.bluelightcard.co.uk/bluemonday