New life saving public access defibrillator cabinet launched
New life saving public access defibrillator cabinet launched
Friday, 08 February, 2019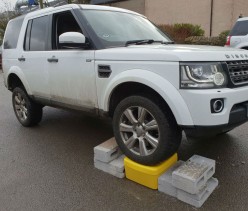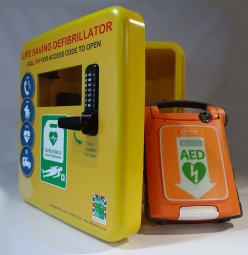 DEFIB STORE launches a revolutionary new outdoor waterproof public access defibrillator cabinet. Manufactured from polycarbonate, the same material used for police riot shields, it is fully water and dust tight, vandal proof and thermostatically heated.
The Defib Store 4000 plastic waterproof defibrillator cabinet is corrosion proof, has a stainless-steel pushbutton lock and can be installed in all environments.
The cabinet has a thermostatically controlled heater to keep the defibrillator at its optimum temperature and ensures it is always ready to save a life.
Each cabinet has a unique double skin construction which gives extra strength whilst providing excellent insulation properties in cold environments.
Defib Store are a Derbyshire based company providing indoor and outdoor defibrillator cabinets and a wide range of defibrillators and accessories.
The new Defib Store 4000 plastic cabinet was developed in conjunction with several Ambulance Trusts and other major customers and has taken over 3 years to reach final production. Part of the testing procedure was to prove the outstanding strength and durability of the cabinet which involved a hammer test of 30 minutes duration and then driving a 3 tonne Land Rover over it without any damage.
Company Managing Director Alex Bennett said "We have listened to our customers feedback over the last few years and have taken this onboard when incorporating the many new innovative features in our cabinet. From the outset we wanted to build the best possible cabinet on the market today because I believe passionately in the provision of these life saving devices and for them to function correctly in all weathers you need a superior cabinet. Although we have only just finalised production, we have already had major interest from both UK customers and also several overseas distributors ranging from the USA to Singapore."
The purpose of the cabinet is to provide a waterproof, sealed, heated and controlled environment for an Automated External Defibrillator (AED) so that it is fully accessible by the general public 24/7.
The lifesaving defibrillator is accessed by calling 999 and asking for the ambulance service who will give out a code for the cabinet and to open it is a simple matter of pushing the coded lock buttons. The defibrillator can then be used on the patient who is having a cardiac arrest by a member of the public who does not need training as the defibrillator calls out a series of commands for them to follow.
The call centre will also deploy an ambulance to the location of the cabinet the patient is being treated with the defibrillator.
The new Defib Store 4000 cabinet is available to order now with deliveries starting in early April.
Further information is available at www.defibstore.co.uk.