Improving the Quality of Ambulance Services: Meeting and Measuring Progress against the CQC Quality Ratings
Improving the Quality of Ambulance Services: Meeting and Measuring Progress against the CQC Quality Ratings
Tuesday, 11 December, 2018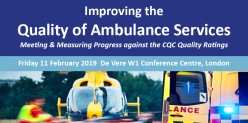 Monday 11th February 2019, De Vere West One, London
This conference focuses on improving the quality of ambulance services and meeting and measuring progress against the CQC Quality Ratings. Chaired by Helen Young, Executive Director of Patient Care and Chief Nurse, South Central Ambulance NHS Foundation Trust, the conference aims to bring together clinicians and managers leading on quality improvement to understand current issues and the national context, and to debate and discuss key issues and areas they are facing in practice in meeting the CQC Quality Ratings in ambulance services.
Through case studies from organisations that have been rated outstanding and extended interactive sessions the event will support you to both measure, monitor and meet the standards, and develop the leadership skills and culture to ensure continuous quality improvement.
The conference concludes with an extended focus on improving quality in the independent ambulance sector which is under increasing scrutiny from the Care Quality Commission.
A 20% discount is available with code hcuk20wal.
For further information visit:
https://www.healthcareconferencesuk.co.uk/improving-ambulance-response
or email kerry@hc-uk.org.uk
Follow the conference on Twitter #ambulanceservices @hcuk_clare