Home support from SWASFT
Home support from SWASFT
Wednesday, 12 September, 2018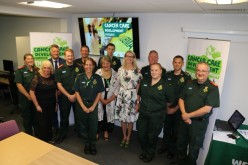 The Chief Executive of Macmillan Cancer Support visited a ground-breaking team of ambulance clinicians who have been working on a new joint project which is benefitting patients across the South West who have cancer, palliative care needs or who are close to the end of their life.
Lynda Thomas met the Macmillan Innovation Excellence finalist project team from South Western Ambulance Service NHS Foundation Trust (SWASFT) last month at Bristol Central Ambulance Station.
Lynda heard all about how, through the joint project with Macmillan, the ambulance service can now provide improved urgent and emergency care for patients and their loved ones, by either supporting management at home or facilitating referrals to a more appropriate health setting.
Chief Executive of South Western Ambulance Service NHS Foundation Trust (SWASFT), Ken Wenman, said: "We're very pleased to have welcomed Lynda to Bristol to meet the team and show her how this ground-breaking project between Macmillan and SWASFT is benefitting patients. Most patients to be treated at home and this project reduces hospital admissions to emergency departments."
"We estimate that in a typical shift, each ambulance crew will attend a patient who has cancer, palliative care needs or who is close to the end of their life. This project enables us to deliver more appropriate care and in many cases, this means treating them at home. This approach enables us to deliver care more in line with patients' wishes. We do of course still take patients to hospital where that is in their best interests."
Ambulance services regularly encounter patients with cancer, yet they often have very little training about the illness so may lack the skills and knowledge to provide the best quality care. Sometimes, people with cancer are conveyed to the hospital emergency department when it would be more appropriate for them to remain at home. In the first collaboration of its kind, the South Western Ambulance Service and Macmillan have come together to combat this gap in education and provision.
Lynda heard first hand from the team about their experiences before and after the education, training and support they have received through the project and listened to patients' case studies treated by paramedics in their own homes, along with a show case of the project's outcomes and benefits.
Background:
The aim of the Macmillan Cancer Care Development Project is to improve and promote best practice in cancer, palliative and end of life care for patients who access urgent and emergency care by calling 999. As well as creating a broad education package for paramedics, the project team have also developed and improved systems and protocols to give ambulance clinician's access to specialist advice and guidance whilst they're on scene. Ultimately, this ensures cancer patients receive the right care in the right place at the right time.
Ed Murphy, Macmillan's Head of Service, SW, says: "Increasing numbers of cancer patients mean ambulance staff will inevitably attend more people with cancer. Patients prefer to be treated at home where possible and for many people at end of life that is also the place they want to die. Before this project, a 999 call would be far more likely to result in the patient being taken to hospital. This is changing for the better, giving ambulance service staff and patients more options."
"Ambulance service clinician's naturally want to save lives and this is what they are trained to do," adds Joanne Stonehouse, Macmillan project lead for SWASFT. "It's just as important for our staff to recognise when keeping a patient at home is the best option for them and their family. We are giving them the tools, training and support to deliver the right care in the right place at the right time and avoid unnecessary emergency admissions."
"We are getting enquiries from other ambulance services around the country that are keen to follow our lead," adds Joanne. "Once the project has been fully evaluated and the model of care established within our systems, we'll be able to share our knowledge for the benefit of patients across the UK."
Macmillan's initial funding was £1m for the project over 4 years. This has provided a dedicated team to deliver cancer care training for staff, including administering additional medications where appropriate. It has also equipped paramedics with new skills to have sensitive conversations with patients and families when patients are in the last few days or hours of life or experiencing a significant health crisis. The project also involves linking more closely with hospices, GPs and other services to provide continuity of care.
Case study:
Specialist paramedic Simon Tutt recalls an instance where he put the cancer care training to good use. "I went to a lady who had bowel cancer and knew she was approaching the end of her life. She was distressed about her symptoms and her family were anxious. They called the ambulance service thinking hospital was the best place for her as they felt unable to cope with her condition. She didn't want to go. I used my cancer care training to talk to them about what was happening and what we could do. I was able to relieve her symptoms using medications, allowing the patient to relax and sleep. I then set up a package of care for managing her symptoms, including a GP visit later that day.
"By discussing options with the family and agreeing what to do, by the time I left the family were reassured and felt they could cope. The GP came out the same night. A week later, I learned that the patient had passed at home, pain and symptom free. Without the training from this project, that patient and family would not have received the same service, enabling the patient to die in the place of their choice, with their family by their side and able to cope with the situation."
The cancer care development project started in 2015 with a scoping period that analysed what needed to be done to achieve better care and how it should be delivered. Training commenced a year later and continues.
"When dealing with patients in such sensitive circumstances it was appropriate to spend time working out the right way to go about improving care and then train sufficient staff to deliver it before talking about it publicly," says Ed Murphy.
"Feedback from ambulance service staff who have used the training demonstrates the improved care delivered for patients. We will continue to work with SWAST and others so we can look forward to the day when all paramedics can deliver this care throughout the country."