Council of Governors appoint new NEAS chairman
Council of Governors appoint new NEAS chairman
Thursday, 24 May, 2018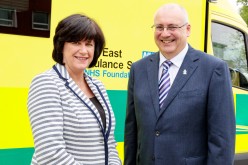 NEAS Chairman Peter Strachan and Chief Executive Yvonne Ormston
A new chairman has been appointed by the Council of Governors at North East Ambulance Service NHS Foundation Trust.
Governors confirmed the appointment of Peter Strachan at a special meeting held on 17 April. This follows the resignation of the Trust's Chairman, the late Ashley Winter OBE, who sadly passed away following a short illness.
Mr Strachan, a graduate of Durham University, returns to the North East from Scotland to join the ambulance service after a career in the railway industry, latterly as chairman of UK Rail and managing director of the Caledonian Sleeper for Serco PLC. He has also served in senior roles with Network Rail and the Department for Transport. Mr Strachan has strong links and family ties to the region. He will join the Trust in June.
Yvonne Ormston, Chief Executive of NEAS, said: "We are really looking forward to welcoming Peter to the organisation and feel very confident that through his positive leadership, NEAS will go from strength to strength.
"Peter is a very people-centred person and this, together with his tremendous skills and experience, makes him a great asset to NEAS and the wider NHS in the North East".
As an NHS Foundation Trust, NEAS has around 12,000 public and staff members who elect governors to a council that holds the Board of Directors to account and is responsible for appointing the Chairman and Non-Executive Directors.
Mr Strachan added, "It's a great privilege to be appointed to chair the North East Ambulance Service NHS Foundation Trust. I'm very much looking forward to making a difference to the communities and people of the North East through the vital role the Ambulance Service plays in the healthcare of the region.
"I've been really impressed by the commitment of the team and dedication for our patients throughout the organisation, and I believe my passion for service improvement will allow the Trust to build on the very high standards already achieved."
Lead Governor, Michael Glickman, welcomed the appointment having been closely involved in the selection process. He said, "We are confident that Peter will provide strong leadership whilst being responsive to the needs of staff and patients."