Firefighter Ian running for Wiltshire Air Ambulance at London marathon
Firefighter Ian running for Wiltshire Air Ambulance at London marathon
Monday, 19 February, 2018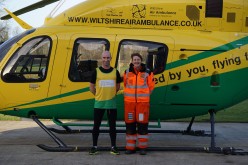 Ian Norris, who is running the London Marathon 2018 for Wiltshire Air Ambulance, with Wiltshire Air Ambulance Critical Care Paramedic Louise Cox.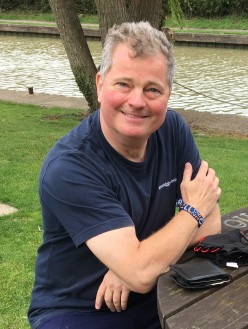 Dr Jerry Marshall.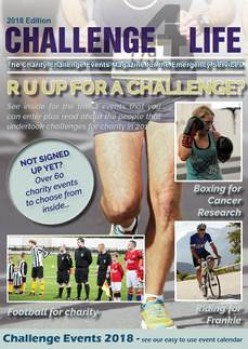 Challenge 4 Life R u up for a challenge download it FREE
Retained firefighter Ian Norris is running his final London Marathon, in memory of a local doctor to raise vital funds for Wiltshire Air Ambulance.
This is the first year the charity has obtained a place in the London Marathon and following an application process Ian, 42, was chosen as their runner. The marathon takes place on Sunday 22 April 2018 and Ian has to raise a minimum of £2,500 for Wiltshire Air Ambulance.
As a retained firefighter, Ian, of Ruxley Close, Royal Wootton Bassett, has worked alongside Wiltshire Air Ambulance at incidents and he is running in memory of Royal Wootton Bassett GP Dr Jerry Marshall.
Ian, who is married with two children, said: "Dr Marshall was very well respected in Royal Wootton Bassett and he sadly passed away in November 2016. He was passionate about Wiltshire Air Ambulance and regularly fundraised for it, so I would like to continue that by running the London Marathon.
"I also support Wiltshire Air Ambulance by playing their Lottery and I've worked alongside their crews over the years at incidents that I've attended when on call for the fire service. Working with them is awe-inspiring. The critical care skills of their paramedics and the speed of the helicopter can mean the difference between life and death. This vital service is a charity and relies on public donations."
Ian, who works in vehicle quality at Honda in Swindon, has run the London Marathon four times and this year will be his final one.
He said: "I first ran the London Marathon in 1999 and I got the bug for it! It's a great event and the support you get from the crowd is amazing. Since I last ran it in 2011 I've tried to get a place in ballots but not been successful. Being able to run it for a final time for such a great charity as Wiltshire Air Ambulance is brilliant."
Ian's best time in the London Marathon was 3:37 in 2002 and he is hoping to complete the course in under four hours.
Ian, who grew up in Sherston and went to Malmesbury School, has been a retained firefighter in Royal Wootton Bassett for 12 years and before that was at Swindon for two years.
Kenresa Stratford, Fundraising and Events Coordinator at Wiltshire Air Ambulance, said: "We're thrilled that Ian will be running the London Marathon representing Wiltshire Air Ambulance. So far, Ian has done a fantastic job in kick-starting his fundraising plan and is regularly updating us on how his training is going.
"We really value his support and wish him the best of luck on the day itself. We need to raise £3.25 million a year to keep flying and saving lives and we couldn't do this without people like Ian taking on such an incredible challenge."
Ian's fundraising includes a quiz night at The Crown pub, Broad Hinton, on Thursday 8 March at 7.30pm for teams of six to enter. He also has Wiltshire Air Ambulance collection boxes in The Cross Keys pub and The Crown Hotel, both in Royal Wootton Bassett High Street.
To support Ian's London Marathon fundraising go to http://uk.virginmoneygiving.com/fundraiser-web/fundraiser/showFundraiserProfilePage.action?userUrl=NORRO
Are you looking for a challenge? Download Challenge 4 Life FREE pact full of charity challenge events for 2018.