Digitising pre-hospital care in Kent, Surrey & Sussex Air Ambulance
Digitising pre-hospital care in Kent, Surrey & Sussex Air Ambulance
Monday, 05 February, 2018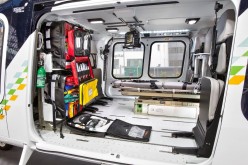 Tempus technology onboard the Kent Surrey & Sussex AW169 helicopter
Professor Richard Lyon MBE, Associate Medical Director of Kent, Surrey & Sussex Air Ambulance (KSS) provides an insight into the challenges faced by his service and how the adoption of new technologies is helping to alleviate pressure, improve working conditions and ultimately, patient outcomes.
The challenges
Pressures faced by air ambulances can sometimes differ from those on land, but the technology used by both has the potential to transform the delivery of care so that all emergency services are moving forward together.
At KSS Air Ambulance, we are continuously looking to improve the care we deliver to our patients. We are very busy, going on over 2,000 missions every year across Southeast England and we are the only air ambulance to operate 24 hours a day with a helicopter. A significant number of our patients are critically injured following major trauma and many undergo pre-hospital anaesthesia or receive advanced medical care like a blood transfusion or a surgical procedure. Capturing data in these challenging interventions is imperative to ensure decision makers have as much clinical information as they need to make to best possible decision for onward care.
The digitisation of healthcare is well underway and it is now time for the emergency services to further embrace technology to help a sector arguably under the most pressure and scrutiny, transition into newer, better clinical models of care.
At the forefront of technology
KSS has always strived to procure state-of-the-art technology. We're proud to be the first air ambulance in the UK to adopt the new AW169 helicopter, which is revolutionising pre-hospital patient care. Reflecting this calibre of technology within the helicopter we're now using the Tempus ALS (Remote Diagnostic Technologies (RDT)) patient monitor defibrillator. It's the smallest and lightest monitor we've used on HEMS and robust enough to withstand the military battlefield (which is where it came from), and now the demanding pre-hospital environment.
Elsewhere, in 2012, we started to explore developing a bespoke electronic patient database and reporting system that would be unique to the HEMS environment. Two of our previous registrars launched HEMSbase (MedicOne Systems Ltd), a web-based suite that allows us capture mission data in real time. We use it for tasking, mapping, taking scene pictures, recording patient details, clinical care and patient outcome. We do all of this in real time on iPads and this allows us to handover a printed patient record at hospital. For us, HEMSbase is crucial for audit, research and development.
The challenge, however, has been the ability to capture rich, detailed, physiological data, which can be seamlessly integrated into our patient records. Using the Tempus' in-built simcard, we are now able to beam complete monitor records directly into HEMSbase on every mission we fly. Technology like this is helping us fulfil our data-driven ambitions.
Utilising the data
In addition to enhancing direct patient care, all the data from the Tempus monitors are downloaded on a daily basis for Clinical Governance and audit.My own interest is in pre-hospital research and it's crucial that we have accurate pre-hospital physiology data. For example, we are currently evaluating the impact of introducing blood transfusion into our service. We need to know patients' cardiovascular status at various stages of the mission to inform this study to try and establish which patients would benefit from a pre-hospital blood transfusion.
Being able to handover an electronic patient record at hospital, which accurately documents the patient's physiology on a minute-by-minute basis, is very helpful for the hospital team in terms of diagnosis and planning on-going care. The new technology is allowing us to capture this data in a way we've never done before.
Looking to the future
To fully embrace the digital pre-hospital environment, we are looking for new, robust ways to connect paramedics on scene to the helicopter and on to the hospital. We want to ensure data can keep pushing the boundaries of healthcare for the better. One advance to look out for in 2018 is a new remote telemedicine functionality for the Tempus monitoring technology called Corsium Suite.
At KSS HEMS we always have a Duty Consultant available for remote medical support. This is invaluable for complex medical and trauma cases. Corsium Suite will allow the Duty Consultant to view the patient's clinical data in real time, meaning that we won't need to give continuous updates via the radio or telephone. The HEMS Consultant will be able to support the duty team remotely by accessing the monitor securely via the web, from wherever they may be. This is an exciting development we are looking forward to introducing as soon as possible.
We have recently launched a new service for certain out-of-hospital cardiac arrest patients. This involves using mechanical cardiopulmonary resuscitation to transport patients to King's College Hospital to potentially be placed on extracorporeal membrane oxygenation (ECMO). We are exploring the potential to live stream data from the scene, ambulance or helicopter, directly to the hospital team, which will allow them to plan the patient's subsequent clinical course.
Harnessing rich, on-scene data has the potential to transform the way we deliver care in the pre-hospital environment. As the pace of adoption begins to quicken, I'm excited to see what efficiency improvements will be made over the coming year to help benefit patients and the NHS.