Hall and Woodhouse announces two year Charity Partnership with local Air Ambulances
Hall and Woodhouse announces two year Charity Partnership with local Air Ambulances
Thursday, 01 February, 2018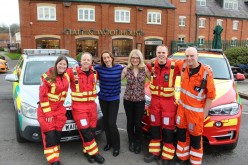 Left to right Lauren Dyson, Neil Bizzell, Lucinda Gray, Debra Reed, Ollie Zorab and Dan Tucker
Leading independent brewer, Hall & Woodhouse, is delighted to announce it has chosen eight local air ambulance charities as its Charity Partner for the next two years.
Devon Air Ambulance Trust, Dorset and Somerset Air Ambulance, Great Western Air Ambulance Charity, Hampshire and IOW Air Ambulance, Kent Surrey Sussex Air Ambulance, London's Air Ambulance, Thames Valley Air Ambulance and Wiltshire Air Ambulance are all set to be equal beneficiaries of the fundraising partnership.
Fifty-one Hall & Woodhouse public houses are taking part in supporting the life-saving services, with an aim of raising in the region of £250,000 over the two year period. This will be achieved through a number of fund-raising activities organised by each of the local public houses, such as quiz nights, sponsored events, fun days and sports tournaments. All monies raised will be equally split between each charity enabling them to fund the cost of missions, to further enhance their operations or purchase new items of specialist equipment.
Lucinda Gray, sixth-generation of the Woodhouse family and Hall & Woodhouse Charity Champion, commented: "As a company that places community at the heart of our business, supporting worthy causes is very important to Hall & Woodhouse. These local air ambulance charities cover the counties where our public houses are located and each of them work tirelessly to care for critically ill or injured patients within our community. We are extremely proud to have so many of our public houses backing the campaign and being able to support this wonderful cause.
"Having raised a phenomenal £248,000 for Macmillan in 2013/14, and then in excess of £210,000 for Together with Short Lives in 2016/18(final number yet to be confirmed), I know our team and guests will do everything they can to exceed these totals over the next two years.
Tracy Bartram, Dorset and Somerset Air Ambulance Communications Manager said: "We are so excited that Hall & Woodhouse have chosen us as their new Charity Partner. This unusual partnership, with eight air ambulance charities being supported by one umbrella organisation, is quite rare. The fact that Hall & Woodhouse team members voted to support us, means so much and we believe that this relationship will be very special. Not only is the partnership set to raise a significant amount of funds, it will also enable us to engage with so many people in the local community, raising awareness of the work we do."
Fundraising for the air ambulances will begin in February 2018 and in March some of the public houses will be taking part in 'The World's Biggest Pub Quiz', an event being led by PubAid.
More information on Dorset and Somerset Air Ambulance can be found by visiting: www.dsairambulance.org.uk or by calling: 01823 669604.
For more information about Hall & Woodhouse, visit: www.hallandwoodhouse.co.uk.