Welsh Ambulance Service calls on public to help save lives by supporting its Defibuary campaign
Welsh Ambulance Service calls on public to help save lives by supporting its Defibuary campaign
Wednesday, 31 January, 2018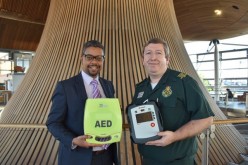 THE Welsh Ambulance Service is calling on people to help save lives by locating their nearest defibrillator.
It comes as the Trust launches its annual Defibuary campaign, which is aimed at raising awareness of what a defibrillator is and where to find the closest one when someone goes into cardiac arrest.
Throughout February the service is encouraging people to take a selfie with their nearest defibrillator and send details of its location via Twitter to @WelshAmbPIH using the hashtag #Defibuary.
A patient's chance of surviving an out of hospital cardiac arrest decreases by an estimated 10 per cent with every passing minute without intervention, such as CPR and defibrillation.
During last year's campaign, a total of 307 pictures were submitted and 102 new locations were identified across Wales.
Dr Brendan Lloyd, Medical Director for the Welsh Ambulance Service, said: "When someone goes into cardiac arrest, early defibrillation is a crucial part of the chain of survival.
"In fact there are a number of people in Wales who are alive today thanks to the quick-thinking actions of bystanders in using a nearby defibrillator.
"We have been working with a range of healthcare professionals and colleagues to ensure community defibrillators are registered on our computer system.
"This enables our call takers to advise callers how to retrieve lifesaving equipment quickly and save lives.
"During Defibuary we're encouraging everyone to familiarise themselves with where they can find the closest piece of lifesaving equipment available to them. Hopefully you will never need to use it, but it really could make all the difference."
Health Secretary Vaughan Gething has given his backing to the campaign, he said: "Every second counts when someone goes into cardiac arrest.
"We never know when we might come across situations where action needs to be taken to help save a family member, friend, colleague, neighbour or stranger.
"I'm supporting the Trust's campaign to raise awareness of early defibrillation and to encourage everyone to find out where these lifesaving defibrillation machines are located, when out and about."
Those who take part in Defibuary could win a number of fantastic prizes, including defibrillators, defibrillator training for your community, four complimentary tour tickets for the Principality Stadium in Cardiff and two tickets for a T20 group home match at the SSE SWALEC Stadium.
Other prizes include a Sunday night stay for two with full Welsh breakfast at The Cawdor Hotel in Llandeilo, family tickets for a Scarlets home game, two tickets for Swansea City's home game against Southampton and family entry to the Bluestone Blue Lagoon Water Park.
Last year members of the Penrhyn Parkrun club in Gwynedd sent in more than 100 pictures and identified more than 40 new locations.
They won a new defibrillator which has been positioned at Penrhyn Castle near Bangor, where the club begins their weekly 5km run.
One was also awarded to Llanfairfechan's Croquet and Bowling Club, whose members had never used Twitter before, but got involved and won a lifesaving prize for their community.
To find out the location of your nearest defibrillator please visit http://bit.ly/DefibLocations
If you are interested in setting up a new Public Access Defibrillator site please call 07734 716766 or e-mail gerard.rothwell@wales.nhs.uk