Welsh Ambulance Service Cycle Response Unit helps more than 600 patients in a year
Welsh Ambulance Service Cycle Response Unit helps more than 600 patients in a year
Tuesday, 09 January, 2018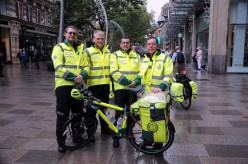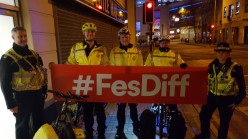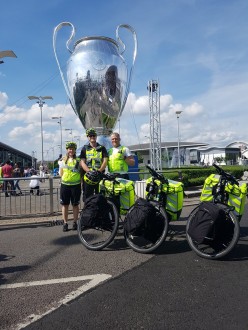 A TWO-WHEELED team of Welsh Ambulance Service clinicians and volunteers has helped more than 600 patients in a year.
The Trust's Cycle Response Unit (CRU) attended 623 calls on the streets of Cardiff during 2017, which was its first full year of operation.
The CRU uses pedal power to reach patients quickly in busy parts of the city centre, such as pedestrianised areas and shopping centres, on key dates.
Blackweir-based Clinical Team Leader Steve Bennett runs the unit and said it provides vital reassurance and medical treatment for members of the public.
He said: "The Cycle Response Unit gives people in the city centre confidence that if anything happens then we're close by to assist them.
"Our average time from call to response is between three to four minutes, so we're giving patients the best care they can get within the shortest time possible."
The team includes paramedics, emergency medical technicians and community first responders, who attend calls on bikes, which are specially fitted with a siren and blue flashing lights.
They carry a range of medical equipment, including defibrillators, and can give life-saving treatment while an ambulance is on the way.
They can also treat patients with less serious illnesses and injuries at the scene, preventing an unnecessary journey to hospital and freeing up ambulance crews to respond to other calls.
Steve said the unit has become an important part of the Cardiff community during the year.
He said: "The public absolutely love the bikes and because we can stop and engage with them when we're not attending a call, they think it's superb.
"We know most of the homeless community in Cardiff by name and, as well as checking on their welfare, we work closely with homeless charities and BID Cardiff.
"We've also been welcomed by local businesses who are grateful for the service we provide, and keep an eye out for us too."
The CRU has provided medical assistance at a number of major sporting events in the capital, including the Champions League final in June, the Six Nations and the Autumn Rugby Internationals.
The team has also covered several occasions in neighbouring areas, such as Porthcawl's Elvis Festival and the Red Arrows display in Barry during August.
There are now plans to increase the number of members of the unit by training more staff and volunteers during 2018.
The Trust's Director of Operations Richard Lee said: "The Cycle Response Unit helped hundreds of patients last year and played a key role during big events and busy nights in Cardiff, including over the Christmas and New Year period.
"Even when the city's streets are crowded, they're able to move quickly to patients and provide immediate assessment and treatment before an ambulance crew arrives.
"In many cases they can treat patients with less serious conditions at the scene, keeping our ambulance crews free to attend emergency calls elsewhere."