Commander Confidence Survey now complete
Commander Confidence Survey now complete
Thursday, 09 November, 2017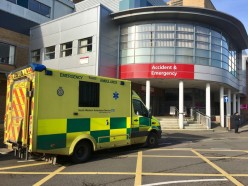 An ambulance outside an A&E. Imran's Photography / Shutterstock.com
A study published in Health Services Research suggests that because more people are surviving heart attacks and strokes, more people are visiting A&E departments.
Researchers from City, University of London, Imperial College London, University of York and the University of Palmero examined data from a total dataset of more than 10 million people. The results showed that survivors of deadly conditions such as heart failure and stroke are more prone to being re-admitted as an emergency within a few years of originally falling ill.
The 'survival effect' led to an estimated increase of 426,000 emergency admissions in 2012, costing NHS hospital services around £1 billion per year. They calculated that around 37% of the rise in emergency admissions was among people whose life had been saved previously.
Dr Mike Knapton, Associate Medical Director at the British Heart Foundation, said: "While hospitals are getting better at treating acute emergencies such and stroke and heart attack, this is having a knock on effect, by increasing the numbers of survivors who in turn drive up unplanned hospital admissions in the future. The implications of this research are that alongside continuing research to improve treatments, we need to find more effective ways of preventing people suffering heart attacks and strokes in the first place. More than 9,000 heart attacks and at least 14,000 strokes could be prevented over the next three years with better management of high blood pressure alone. Far more could be prevented with improved diagnosis of atrial fibrillation.
"We also need to work with the NHS to embed more innovative ways of treating these conditions. Heart failure accounts for around 190,000 hospital visits each year, but our trials have shown that many treatments can be given in the home, saving the NHS significant costs while improving patient experience."
Heart Failure
Having heart failure means that for some reason your heart is not pumping blood around the body as well as it used to. The most common reason for this is that your heart muscle has been damaged, for example after a heart attack.
Living with severe heart failure is a constant fight for life and there is currently no cure. Every year, thousands more families have to watch the people they love struggle with this devastating condition.
Over the past 50 years BHF research has made breakthroughs in heart failure medicines like ACE inhibitors, but there is still more that needs to be done.