SAS investment
SAS investment
Monday, 09 October, 2017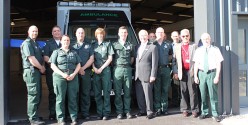 SAS's new facility in Pitreavie
The Cabinet Secretary for Health and Sport, Shona Robison, officially opened Scotland Ambulance Service new purpose built ambulance station in Dunfermline in September.
The new facility in Pitreavie cost £1.3 million and was built in eight months.
The station serves as an operational base for 44 staff with three emergency ambulances, one urgent tier ambulance, a paramedic response unit and seven patient transport service vehicles.
In the last year, Dunfermline crews responded to more than 8,000 emergencies as well as GP requests for urgent patient transfers to hospital and routine medical calls. Patient transport service crews undertook more than 20,000 journeys taking those with medical need for transport to and from hospital appointments.
The building is fully compliant with all the latest NHS standards for control of infection, with improved laundry, sluice and vehicle cleaning facilities. It also incorporates the latest environmentally friendly heating and lighting systems to increase energy efficiency.
The teams at the station now benefit from new locker rooms and changing areas, along with state-of-the-art conference and training facilities.
Attending the opening, Cabinet Secretary for Health and Sport, Shona Robison, said: "I am delighted to open Dunfermline's new ambulance station and to meet with staff. The investment in this station is a great example of our continued commitment to the Scottish Ambulance Service, and to the patients who rely on both the emergency service and patient transport service every day."
Scottish Ambulance Service Chairman, David Garbutt, said: "The new station is the result of considerable hard work and has been designed from scratch to meet our needs. It is finished to the highest standards and provides a modern fit-for-purpose workplace
"It is a significant improvement that supports ongoing operational and clinical skills development. The facilities are of the highest quality and meet all of the stringent NHS hygiene standards.
"The development is part of our national property investment strategy to upgrade our stations across the country to meet the needs of our staff and patients, providing the highest standards of clinical care."