New ambulance hub for Hertfordshire
New ambulance hub for Hertfordshire
Thursday, 28 September, 2017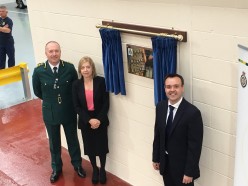 L-R: Robert Morton, Chief Executive Officer EEAST, Sarah Boulton, Chair of EEAST, and MP for Stevenage Stephen McPartland officially open the new ambulance hub in Stevenage.
Today (28th September) saw the official opening of the new Stevenage ambulance hub.
The modern hub in the Motorway Industrial Estate, Babbage Road, provides a bigger and better base to respond to patients. Local MP Stephen McPartland officially opened the new facility, which provides a base to more than 200 East of England Ambulance Service NHS Trust (EEAST) staff in East and North Hertfordshire.
Stephen McPartland MP said: "I am delighted we have so many ambulances and talented professionals based here in Stevenage at the new hub. It is incredible the transformation that has taken place inside the building and the crews seem to be really enjoying it. I am proud of the continuing massive investment in our local NHS, which is making Stevenage a centre of clinical excellence."
Stephen was joined by councillors, NHS colleagues, EEAST staff and volunteers to celebrate the state-of-the-art facility, which was converted by Neville Special Projects Ltd Luton. The 24/7 hub has two training spaces, a staff rest area, locker and shower facilities, wellbeing room and computer room.
It has a make-ready facility where ambulances and response cars are cleaned, prepared and stocked for front-line duties.
The facility was converted as part of a £1 million investment project in Hertfordshire, which included progressing Letchworth ambulance station into a stores facility and improving a depot base at Watford. Robert Morton, Chief Executive of EEAST, said: "I want to thank everyone for joining us today as we celebrate this great milestone. This new site gives our staff better facilities to work from and a better base to respond to our patients and I would like to thank our staff for supporting this change. The opening of this excellent new ambulance hub is the culmination of a lot of hard work by many people." The new facility is part of EEAST's estate transformation plan to create a network of modern hubs and community ambulance stations across the region over the next five years. Steve Davey, Senior Locality Manager for East and North Hertfordshire, who is based at the station, added: "The new hub is much more effective than our previous space given the number of vehicles we now have in the local area. It forms part of a wider network of sites in Hertfordshire that ensures our staff and vehicles are located and managed in the most efficient way to deliver the best care we can to patients."