Patient thank Wiltshire Air Ambulance for lifesaving blood transfusion
Patient thank Wiltshire Air Ambulance for lifesaving blood transfusion
Friday, 08 September, 2017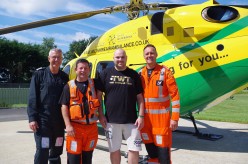 Kieron Reeson (third from left) with the Wiltshire Air Ambulance Crew who attended him, Pilot George Lawrence and Paramedics Fred Thompson and Richard Miller.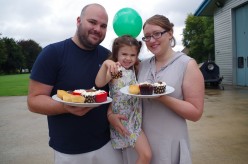 Preparing for their fundraising for Wiltshire Air Ambulance during Bake Off for Lift Off are Kieron Reeson, his partner Elaine Shepherd and their four-year-old daughter, Iyla.
A WILTSHIRE man has thanked the Wiltshire Air Ambulance crew who, he says, saved his life after he suffered serious injuries in a road traffic collision.
Motorcyclist Kieron Reeson, 31, of Westbury Leigh, sustained life-threatening injuries in the collision at Dilton Marsh and he was given a blood transfusion by the Wiltshire Air Ambulance crew before being flown to Southmead Hospital, Bristol, in eight minutes.
A year after the collision Kieron has met the Wiltshire Air Ambulance crew who treated him and he is supporting the charity's Bake Off for Lift Off fundraising campaign, which runs during National Air Ambulance Week (11- 17 September).
Kieron broke his back and his other injuries included seven broken ribs, a broken hand and ruptured spleen. He was in Southmead Hospital for five weeks, including five days in the intensive care unit.
The collision happened on 11 July 2016 as Kieron was driving to work to start a shift as a barman after having celebrated his daughter Iyla's third birthday.
Kieron, who also has a six-year-old son, said: "I wouldn't be here without the skills of the Wiltshire Air Ambulance crew and the speed of the helicopter. I was in excruciating pain after the collision. I tried to move but I couldn't do it and I couldn't breathe. Land ambulance paramedics got to me first and they called in the air ambulance due to my injuries.
"My blood pressure plummeted on the roadside and the Wiltshire Air Ambulance paramedics gave me one unit of blood at the scene and another unit of blood in the helicopter on the flight to hospital. Having the blood transfusion saved my life and means I get to see my kids grow up.
"Meeting the pilot and paramedics at Wiltshire Air Ambulance who saved my life was overwhelming and emotional. I'm so grateful to Wiltshire Air Ambulance – the work they do is incredible. They are funded by donations and I will be doing what I can to support them in their fundraising. We are so lucky in Wiltshire to have this lifesaving service."
Kieron's partner, Elaine Shepherd, is planning to take part in Wiltshire Air Ambulance's fundraising initiative Bake Off for Lift Off by baking cakes for her colleagues at Longleat Safari Park and donating the proceeds to the charity.
Kieron has also donated a boxing glove signed by his friend Lee Haskins, the former International Boxing Federation bantamweight world champion, to Wiltshire Air Ambulance to auction.
Claire Kelly, Head of People, Retail & Supporter Engagement at Wiltshire Air Ambulance, said: "We were absolutely delighted to welcome Kieron and his family to our Operations Centre in Devizes and thank them for supporting us with their fundraising. We wish Kieron well in his ongoing recovery.
"We have to raise £3.25 million a year to keep our lifesaving service operating and it's thanks to the generosity of people who make donations and fundraise for us that we are able to be there for seriously injured patients like Kieron."
For more information about Bake Off for Lift Off call the Charity Team on 01380 739453.