Region's ambulance staff contribute to carnival spirit at Notting Hill
Region's ambulance staff contribute to carnival spirit at Notting Hill
Tuesday, 29 August, 2017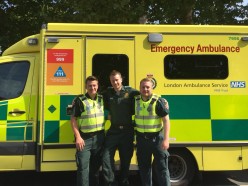 EEAST paramedics at Notting Hill; from left Ryan Kent, Callum Johnson and Cam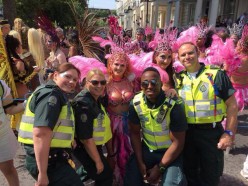 EEAST ambulance teams at Notting Hill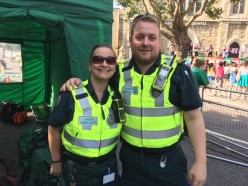 Two EEAST paramedics at Notting Hill Carnival
A team of staff from the East of England Ambulance Service NHS Trust (EEAST) supported Notting Hill Carnival celebrations in London.
A group of 12 qualified staff, including student paramedics, paramedics and emergency medical technicians, spent three days working alongside colleagues from London Ambulance Service to deliver patient care at the colourful annual event, while EEAST's Director of Service Delivery Kevin Brown was a sector commander and Ed Rowan, from the Trust's Patient Experience team, provided logistical support.
Kevin said: "It was a fantastic event and I was very proud of everyone for adapting so readily to a huge change in environment working at the carnival and all the challenges it brings. It was great to see the team working alongside our colleagues from all the emergency services, keeping carnival-goers safe and looked after if they needed it.
"Working at an event like this requires a very different type of emergency response, so hopefully our staff learned a lot from the experience. The team from EEAST worked incredibly hard in the blistering heat but most importantly, got in the carnival spirit and contributed to the positive atmosphere the weekend is all about."
EEAST attended the event on a request for mutual aid from LAS, and were joined by other teams from North East Ambulance Service, and South West Ambulance Service.
Staff from EEAST worked on both ambulances and on foot to deliver care to patients, and some were thanked personally by Mayor of London Sadiq Khan and London Metropolitan Police Commissioner Cressida Dick while carrying out their duties.