Hertfordshire hotel commended by ambulance service following care home blaze
Hertfordshire hotel commended by ambulance service following care home blaze
Thursday, 06 July, 2017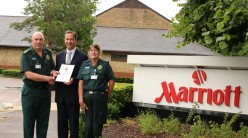 Senior Locality Manager Clive Goodson and Duty Locality Officer Carol Jones presented the commendation to General Manager Michael Regenhardt
Hotel staff have been awarded a commendation from the region's ambulance service for their care and compassion in the aftermath of a serious care home fire.
In the early hours of 8th April, medics from the East of England Ambulance Service NHS Trust (EEAST) were dispatched to the major incident on Cadmore Lane, Cheshunt, which sadly claimed the lives of two people.
Medics worked tirelessly with from the fire and police service colleagues to treat 33 patients who had suffered a range of injuries from burns to smoke inhalation.
In the following hours of the terrible incident, the Cheshunt Marriott Hotel Marriot opened its doors to provide shelter, food, and water for the emergency service staff and patients – something that has been credited by bosses at EEAST.
On Tuesday, 27th June Senior Locality Manager Clive Goodson and Duty Locality Officer Carol Jones presented the commendation to General Manager Michael Regenhardt.
Clive said: "I'd like to thank the hotel and all of the staff for the compassion they showed not only to our colleagues but also to the patients. It was a tragic incident in which we sadly saw two people not survive, but for the staff to show willingness to help those in their community speaks volumes.
"I'd also like to thank all of our staff for their efforts on the day as well as our fire and police colleagues. Together we all worked as one to provide the best possible care for all those who needed it."
Michael said: "The hotel is and has been a part of the Hertfordshire community for more than 20 years. It is one of Marriott's overriding philosophies that a community supports each other and on 8th April it was our pleasure to provide shelter and provisions to the residents of the Newgrange Residential care home in their distressing hour of need whilst assisting the emergency and social care services at the same time so that they can concentrate on the difficult tasks at hand."