National Air Ambulance awards: nominations now open
National Air Ambulance awards: nominations now open
Friday, 30 June, 2017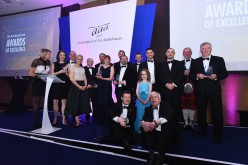 Awards Winners 2016
The Association of Air Ambulances is today calling on the air ambulance community across the UK to nominate an individual or team for this year's Air Ambulance Awards of Excellence. These prestigious, independent awards honour the exceptional contributions of staff and volunteers within the UK air ambulance community.
This year sees the addition of a new award: Air Operations Support Staff Member of the Year. This category is expected to see nominations of dispatchers, engineers, back office staff and other non-flying personnel whose roles are not covered by other Award categories.
The Awards also welcome a new judge to join the judging panel. Adding further knowledge and experience to the team is Debra Allcock-Tyler, Chief Executive of the Directory of Social Change. Debra brings huge charitable sector experience to the role.
The organisers of the Awards are calling on all air ambulance and ambulance services to consider making a nomination this year. Jim Fitzpatrick MP, Chair of Judges, said:
"Year-on-year, the standard of the Award nominations astonishes the judging panel, however we know there are some remarkable organisations out there who are yet to make a nomination for the Awards. This year, we really want to see nominations flooding in from across the country so exceptional individuals and teams can receive the recognition they deserve.
"We have deliberately made the Awards both straightforward and free to enter in order to encourage all organisations to nominate their star individuals or teams. My fellow judges and very much look forward to receiving the nominations."
The Air Ambulance Awards of Excellence are now in their fifth year and have quickly become a prestigious event for the pre-hospital care sector. Last year saw over 275 people watch BBC News's Sophie Long and Helicopter Heroes presenter Rav Wilding hand over 11 Awards to some outstanding individuals and teams. The event has sold-out over the past two years. In a bid to accommodate more guests this year, the Gala Awards dinner is moving to the Millennium Chelsea Harbour Hotel, and will take place on Monday 13 November 2017.
Nominations are now open to the entire sector and are judged by an independent panel of experts, chaired by Jim Fitzpatrick MP. Nominations are now sought in the following categories:
Air Ambulance Campaign of the Year Award - Sponsored by Lottery Fundraising Services
Air Ambulance Doctor of the Year - Sponsored by Leonardo Helicopters
Air Ambulance Innovation of the Year Award - Sponsored by Sloane Helicopters Ltd
Air Ambulance Paramedic of the Year - Sponsored by BMW Government & Authorities Division
Air Ambulance Pilot of the Year - Sponsored by Safran UK
Air Operations Support Staff Member of the Year
Charity Staff Member of the Year - Sponsored by Milestone Aviation Group Ltd
Charity Volunteer of the Year Award - Sponsored by Tower Lotteries
Lifetime Achievement Award - Sponsored by Specialist Aviation Services
Outstanding Young Person Award - Sponsored by Babcock MCS Onshore
Special Incident Award - Sponsored by Airbus Helicopters
The closing date for nominations is 1 September 2017.
For more information, to book tickets or to make a nomination, click here