New Chief Executive
New Chief Executive
Monday, 19 June, 2017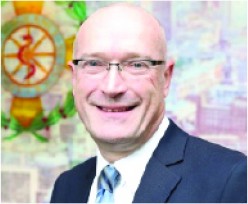 • LAS new Chief Executive, Garrett Emmerson
On 30 May London Ambulance Service's new Chief Executive, Garrett Emmerson, took up his role. Garrett said he is "proud and honoured" to be appointed as Chief Executive and says it is "an exciting time to join the Service".
Setting out his immediate priorities over the next few weeks, Garrett said: "The quality of our patient care is already good and we will continue deliver excellent health care to Londoners in the face of increasing demand.
"I want to build on progress already made in the last two years and help set the Service's longer term vision and strategy."
On his first day in the Service, Garrett met ambulance crews, motorbike and cycle responders as well as control room staff and those supporting frontline operations in the back office.
Garrett, who was previously Transport For London's Chief Operating Officer for Surface Transport, says he is proud to work in "one of the greatest cities in the world."