Come fly with me – virtual reality expert gifts air ambulance a 360° helicopter walk through
Come fly with me – virtual reality expert gifts air ambulance a 360° helicopter walk through
Friday, 26 May, 2017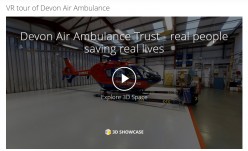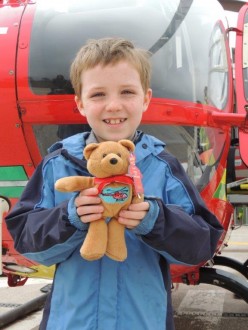 A businessman who specialises in virtual reality (VR) walk-throughs for property sales has used his state-of the-art technology to create a virtual tour of Devon Air Ambulance's (DAA) emergency helicopter and hangar at the charity's Eaglescott air base.
Noel Sexton who runs based Somerset based View It 360 providing VR Solutions for businesses from London to Truro, has donated the VR tour to thank DAA for the role in getting his new born son Callum to hospital after he suffered severe breathing difficulties and was turning blue.
Although the incident happened 11 years ago, it was when Noel set up his VR business last year that he realised he could do something unique for the charity.
He said: "A few years after the incident my mother heard about the airbase visits for former patients and contacted Head Office to arrange a visit for us all. Afterwards my parents signed up to become volunteers with the charity and they now service the DAA collection boxes in the East Devon areas and also help man DAA stalls at various events.
"Callum is now a fit and healthy 11 year old who loves life. The entire family are very grateful to DAA and over the years we have held several fund-raising events for them. So when I set up my new business, View It 360, at the end of last year I immediately saw an opportunity to raise awareness of the work of the charity by offering to donate a 360 degree virtual reality tour of the helicopter and hangar at Eaglescott."
Using the latest technology, View it 360's immersive and photo-realistic tours provide an easy to navigate walk through with the ability to zoom in and out and rotate the image. The tour can be viewed on mobile, tablet and desktop devices by visiting www.daat.org/vr-tour-of-devon-air-ambulance and can also be viewed here through VR headsets.
DAA Chief Executive Heléna Holt said: "This is a wonderful gesture from Noel. It's a visually stunning tour and will give more of our supporters a better idea of the helicopter's specification and controls as well as being great fun to navigate around. It's a very different type of donation but one we are extremely grateful for especially as it will attract more visitors to our website to see the work we are doing on behalf of the people of Devon."